I read this heartbreaking story on The YBF earlier today and had to share. Former NFL linebacker Chris wed his love Keasha, who was battling lung cancer, in a beautiful ceremony on November 27, 2011. On Tuesday — just one month after they tied the knot — Keasha lost her battle with cancer. The couple's touching wedding trailer is below. It is unfortunate that stories about stand-up men like Chris are overshadowed by trash reality television and other nonsense.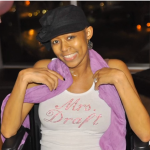 Cherish the time you have with your loved ones, folks. My prayers and condolences go out to Chris and all of Keasha's family.
Draft Wedding Trailer from KRJ PRODUCTIONS on Vimeo.