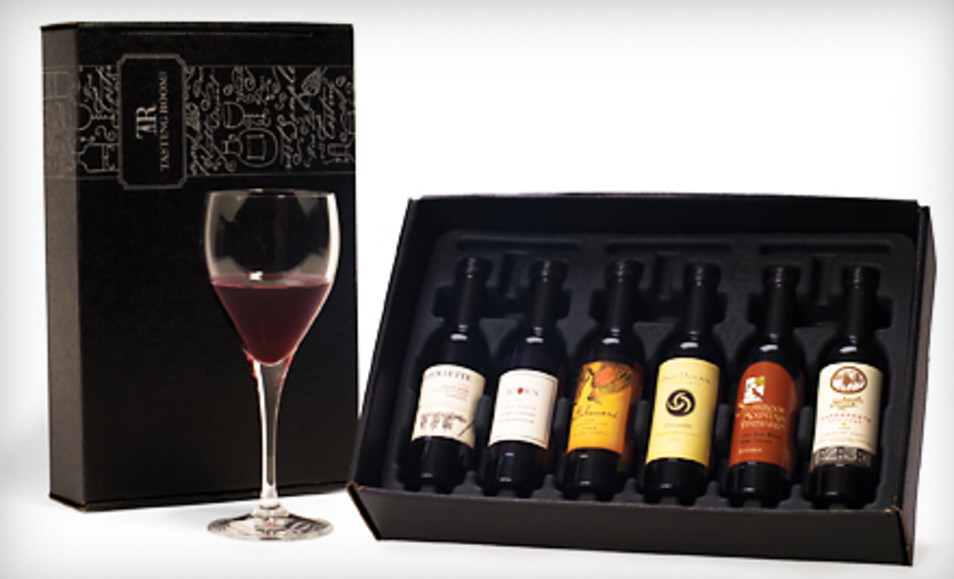 Confession: I am not a big wine drinker and neither is my fiance. I know that over the age of 30, folks are excepted to be able to at least pick a "nice" white or red to accompany a meal while out to dinner. We cannot. I've had some pretty fancy varieties in my day and I've been on a few swanky winery and vineyard tours — even one in South Africa. Still, we're kinda clueless when it comes to vino. So when I learned of TastingRoom.com, I immediately thought, this is perfect for folks like me who want to serve wine at their wedding for their guests. Here are the deets:
Who: Anyone who wants to sample a variety of wines — from the novice like me to the wine connoisseur.
What: The folks at The Tasting Room sample 20-60 different wines per week. The choices are vast; from all over the world. There truly appears to be something for everyone. In fact, TastingRoom.com considers themselves to be the iTunes of the wine world.
What: A sampler contains six 1.7 ounce mini-bottles. I tried the Red & White Essentials Sampler Box but you can check out all your options here. Getting to sample six different bottles of wine for about $25 isn't too bad, right?
Where: Anywhere! Orders are placed online.
Why: If you're interested in serving wine at your wedding and are a little clueless like me, this is a seemingly good investment…if you're using a venue where you're required to bring in your own catering and alcohol. Otherwise, any standard banquet/reception hall should allow you to taste whatever wine(s) they plan to serve during a simple visit and you honestly can skip this hoopla. Still, the TastingRoom.com is cool to have on your radar because the packaging is nice and they have great gift options for your bridal party.
Oh and you can purchase a full bottle if you'd like, too.
Have you sampled any wines through the TastingRoom.com or a similar resource? Lemme know!