Searching for ways to trim your wedding floral budget? Consider corsages for your bridesmaids! Bouquets can easily cost a couple hundred dollars each (!) so corsages are a frugal alternative. Don't assume that you're limited to the cheesy styles you were forced to wear at your prom.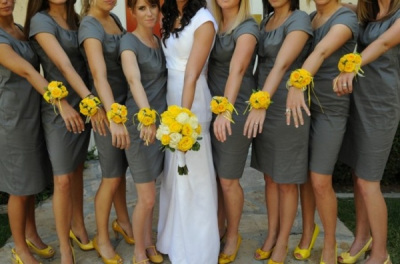 Any reputable florist should be able to create a modern and stylish design that fits within your theme and color palette. You can also go the DIY route and create them yourself. Add some good music and wine and it could be a fun project for your bridal party, too.
Other cost-effective bouquet alternatives for your bridesmaids include clutches (which can double as a fashionable bridesmaid gift) or parasols for an outdoor ceremony. And if you're still searching for frugal floral ideas, get the 411 on budget-saving baby breath bouquets here.
Would you ask your bridal party to wear wrist corsages? Why or why not?