There's yet another wedding to add to the Summer 2013 list of high-profile nuptials! CNN anchor Isha Sesay, 37 said I Do to fellow CNN staffer Leif Coorlim, 34 in Atlanta earlier this month. Isha who is British of Sierra Leonean descent and Leif who was born in California but grew up in Chicago and Portland met at CNN in 2008. The gorgeous Mandarin Oriental Hotel in Buckhead was the couple's venue of choice for both their ceremony and reception. The bride wore a strapless, custom Amsale gown that featured elaborate beadwork and unexpectedly paired her dress with crimson red stilettos.
"Amsale was with me as I tried on different dresses at her Madison Avenue showroom in New York," Sesay told PEOPLE. "She was wonderful. After trying on a number of gowns, Amsale, my stylist Stacey Brice Washington and I agreed that this was the dress for me!"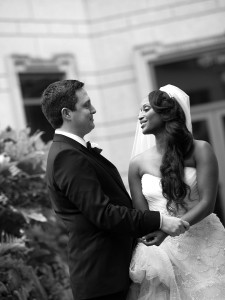 A romantic Leif planned the couple's honeymoon himself and didn't reveal to his bride where they were going until the very last minute. (Insert "Aww!" here.) A gushing Isha Tweeted last night, "We had an incredible honeymoon in Turks and Caicos. Already planning our next trip!"
Triple B wishes the newlyweds a happy and healthy marriage!