So here's the long and short of it: I'm smitten by the idea of bridesmaids wearing different dresses! It is an awesome way for their true personalities to shine through and everyone gets to look their best in a dress that most flatters their body type. The fact is many brides (like moi) would rather not have their girls look like clones on their big day. Brands like Two Birds have recognized this desire from brides and bridesmaids alike and capitalized on it. But what I fancy even more is when bridesmaids rock completely differently dresses like in the above pic.
I like this concept so much that it is what I decided to do for my own big day. Everyone didn't get my vision at first — including my mom and fiancé who thought I was crazy for not just picking out a few styles from David's Bridal and calling it a day. I dig David's Bridal for some items but I knew I wanted something far less cookie-cutter for my bridal party. In addition to the reasons mentioned above, I tried to consider the budgets of all involved. One of my bridesmaids was able to score her dress for less than forty bucks off the rack — no alterations needed. How great is that?
Before you go thinking I'm totally nuts, like the women in the pictures throughout this post I did ask my bridesmaids to keep some factors consistent. I provided the color family via a paint card from Home Depot (Ha!). I also shared that I wanted them to stay at or around the knee as a length preference. In addition, I gave them material suggestions. Oh and I'm providing their shoes and jewelry so there will be consistency there to ensure some cohesiveness. Will it all turn out as beautiful as I'm expecting? Only time will tell but I'm glad that I'm taking a risk and doing things my way on such a special day that is supposed to celebrate the love that
Mr. TK
and I share. Very little about us is traditional.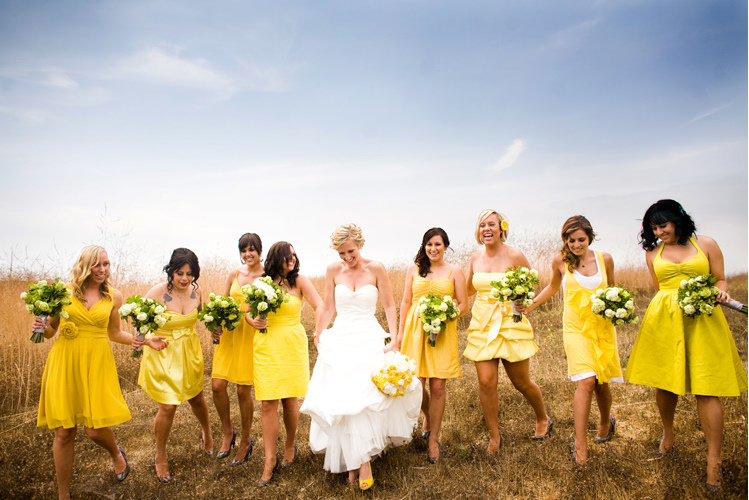 What are your feelings on mismatched bridal party dresses? Have you ever been to a wedding where the bridal party did this? Did it turn out uber-cool or was it a tacky mess? Sound-off!
[P.S. – I know many of you are surprised to see so many non-brown faces in this post. If my point got across then the visuals worked and we should all sleep just fine tonight.]