Last week on April 4, 2014, Real Housewives of Atlanta star Kandi Burruss wed her honey Todd Tucker in what appeared to be a fun-filled affair in Atlanta. Kandi happily Tweeted, "This is one of the best days of my life! I never imagined that I would marry my best friend. Todd's been that to me. And to have just had the wedding of my dreams, it's all been so beautiful. Now it's time to party!" Triple B is very happy for the couple and wishes them a happy and healthy marriage.
Those of you who even remotely follow the RHOA know that Kandi's mother Joyce has not been a fan of Todd or her daughter's relationship with him. At all!
Mama Joyce's feud with her daughter over her son-in-law's true intentions was a major storyline on the Bravo series. In a nutshell, Mama Joyce felt Todd was after Kandi for her money. Kandi is indeed a savvy business woman with a thriving portfolio. (New hubby Todd is a television producer.) Tucker even tried to work things out with Joyce on the show, confronting his future mother-in-law about her "opportunist" accusations.
"I didn't stop liking you," she told him. "I stopped respecting you." She added in January, "They're together, but I'm out of their relationship." "I pray and hope that I'm wrong about Todd."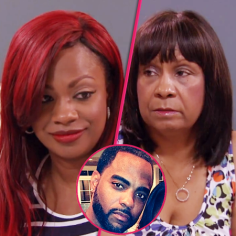 As a newlywed, I can't imagine not having my mother's support of my new union. And I strongly think my husband feels the same way about his mother. The bond between a mother and her child (no matter how old the "child" is) is a strong one. However the reality is
not all couples begin their marriages with a loving blessing from their parents
. It is easy for us to leisurely sit behind our keyboards, iPads and phones and type away about what we would or wouldn't do in this type of situation as I've witnessed people doing on social media. The bottom line? It is
not
easy in the real world to choose between a parent and a fiance/fiancee. Especially if you are close to your mother the way Kandi appears to be on the show. To further complicate matters, Kandi has a tween daughter Riley from a previous relationship who is close to Mama Joyce as well. I have witnessed that family feuds often hurt children the most — and the hurt can last way into adulthood.

What would your advice have been for engaged Kandi? If you were actually in a similiar situation, how did you handle it? And now that Kandi and Todd have tied the knot, how can they ensure Mama Joyce doesn't overstep her boundaries in the affairs of their household. Sound off, folks!