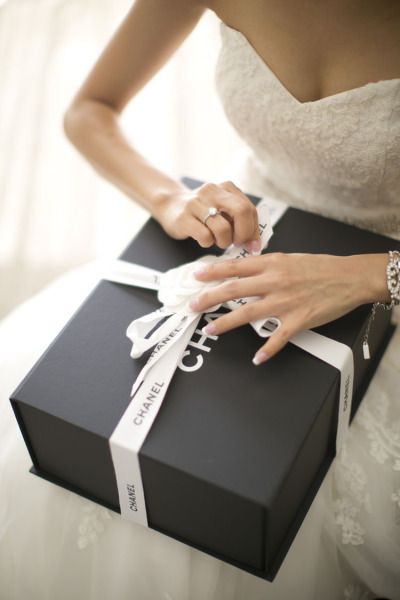 Couples exchanging gifts on their wedding day is definitely not new but since we've yet to really address it here on Triple B I wanted to do so today. Mr. TK and I didn't participate in this but many couples do and look forward to it. I know some brides receive heartfelt cards, designer purses, jewelry and even shoes from their grooms who accept gifts like cufflinks and pocket watches from their brides. And the gift exchange — which usually involves a maid/matron of honor and best man — can make for awesome photo ops.
While I don't regret that Mr. TK and I didn't join in this phenomenon of exchanging gifts, I do like the idea of exchanging cards and/or letters the night before the ceremony or the morning of… It must be kinda nice to have handwritten notes to look back on and relive just what was going through the mind of one's spouse in the days, minutes and even seconds leading up to I Do. On the other hand, it kinda seems like an added expense and/or stressor that isn't necessary.
What say you? Did you and your beloved do this on your wedding day? Are you planning to do it for your nuptials? Sound off in the comments!
[Bottom photo courtesy of mazelmoments.com]