BlackBridalBliss.com's 4th anniversary fete
was
Hair Dew
samples from
Oyin Handmade
. Hair Dew is ideal for naturally wavy, curly and/or kinky tresses because its filled with moisturizing goodies like coconut oil and aloe vera but void of harmful ingredients like petroleum and paraffin. I'm currently transitioning and I've been relaxer-free for eight months so my strands yearn for hydration and a yummy scent to boot. All of Oyin's products are green-friendly and founder Jamyla Bennu and her husband Pierre pride themselves in this. What I'm really feeling most about Oyin Handmade isn't even their growing line of products — although they all seem fab and I can't wait to try more — but rather that the couple behind this growing Baltimore-based company is so freakin' fly.
Jamyla launched Oyin in 2001 and soon after her hubby Pierre joined in on the organic fun. The husband-wife duo not only run Oyin (the Yoruba word for honey) and are doing a pretty awesome job at it since many of the products are now available in Target (no easy feat!) but they're also parents of two adorable sons and vocal about their love and legacy. Check out a snippet of a piece on the power couple behind Oyin penned by my talented friend Penny Wrenn that originally appeared on Oprah.com.
Jamyla: [When we wed] I was 23, Pierre was 25. If I met a young couple like us today, I'd say, "Aww, look at them, so in love." But I'd also think, "What are you kids doing?!"
Pierre: We were young. But we waited ten years before we had kids. We gave ourselves time to be selfish.
Jamyla: It wasn't selfish. There's a certain amount of ego in having a kid, wanting to procreate and—
Pierre: Create somebody who looks like you—
Jamyla: And who will eat up more resources on the planet. I was a child-free adult for a decade and didn't consider myself selfish for being so. Now we're adjusting to having two kids—one of whom is a baby who needs to be held constantly. That's fun and cuddly when he's 8 weeks old. But now it's like, "I've got to get back to work!"
Pierre: And we recently learned that our older son has a speech delay, which was tough at first. There's no way to not feel like you broke your child.
Jamyla: We've had to step back and say, "Okay, he's fine. He's learning at a different pace, but he is learning." Not that we don't have our moments of impatience. I'll say to Pierre, "I tried to explain this sentence and he didn't get it, and now he's crying, and I just want an amaretto sour." But those are always the days when Pierre has a story of triumph, like "Today Osei drew a truck and wrote TRUCK! Go look at it while you have your amaretto sour—it'll make you feel better." So I do, and it does.
Pierre: Sometimes our friends roll their eyes at us: "You can't possibly have been together for 13 years and still be this happy…."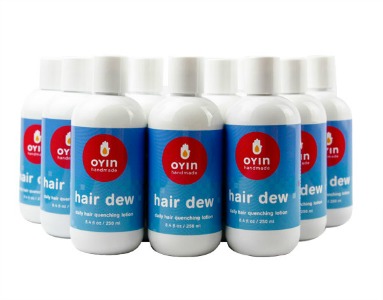 Jamyla: Or they look at us and say, "I want that!" Our response is "Don't want this—want yours."
Pierre: This here is tailor-made.
Jamyla: It's couture, baby! It ain't off the rack.
Pierre: I used to be on the down-low with my joy, keeping my happiness in the closet. But J taught me not to be ashamed of it.
Jamyla: It's more socially acceptable to complain—about your weight, your hair, your relationship, your kids. But if someone says our family is awesome, I'm not going to downplay what we have. Why disparage it? A happy, intact black family isn't an image we get to see all the time in romantic comedies or sitcoms or commercials or on billboards. Saying, "Hell, yeah, it's friggin' awesome!" is how we give thanks for the blessing.
Have you tried any Oyin Handmade products yet? If so, which ones?
[Images courtesy of madamenoire.com]
One of the products included in gift bags for