Back in February, the hubby and I headed below the Mason Dixon line for some R&R. We initially chose Charleston, South Carolina because JetBlue was having a sale. We figured it would be a nice getaway for my birthday, a quick escape from NYC's harsh winter and a chance to experience a new city together. Both of our expectations were pretty low. Man, were we pleasantly surprised!
I learned upon booking our flight that Charleston is one of America's top cities for destination weddings. Conde Nast Traveler ranked it a Reader's Choice Top U.S. city. Charleston is a unique hybrid of the "old South" — think magnolia trees and fried green tomatoes juxtaposed with chic designer boutiques and modern art galleries. I was concerned about how the Triple B audience would respond to this post because of the glamorization of slavery in some southern cities like Charleston. (Most of those plantation tours still get the side eye from me.) However I used my discernment. Here are highlights of my stay in "The Holy City" and the people, places and things I think you might enjoy, too.
STAY!
The mister and I stayed at the King Charles Inn (see above pic) on Meeting Street so we were a stone's throw away from loads of dining and activities. (Charleston is a walking city — great perk if you don't want to rent a car.) Small touches like rocking chairs on our balcony were a treat. The hotel has a boutique feel plus daily manager's reception with cheese and crackers for guests. One downfall was the noisy construction nearby but hopefully that is completed by now.
Other hotels that get rave reviews in Charleston are the French Quarter Inn and Zero George Street.
PLAY!
Charleston has no shortage of things to do for singles, couples or groups. Here's a list of my top picks:
South Carolina Aquarium – A day at the aquarium isn't just an educational activity for children, it also makes for a great daytime date. Mr. TK and I enjoyed our visit and ding, ding, ding — this location also hosts weddings!
Quickshot Shooting Range – Who knew an afternoon at the gun range would be so much fun? Mr. TK and I had a blast. This could make for a fun Jack 'n Jill bachelor/ette activity, too.
Lowcountry Cooking Class – I dragged Mr. TK to Charleston Cooks! and I think he enjoyed it just as much, if not more, than I did. Check out my miniature Pineapple Upsidedown Cake!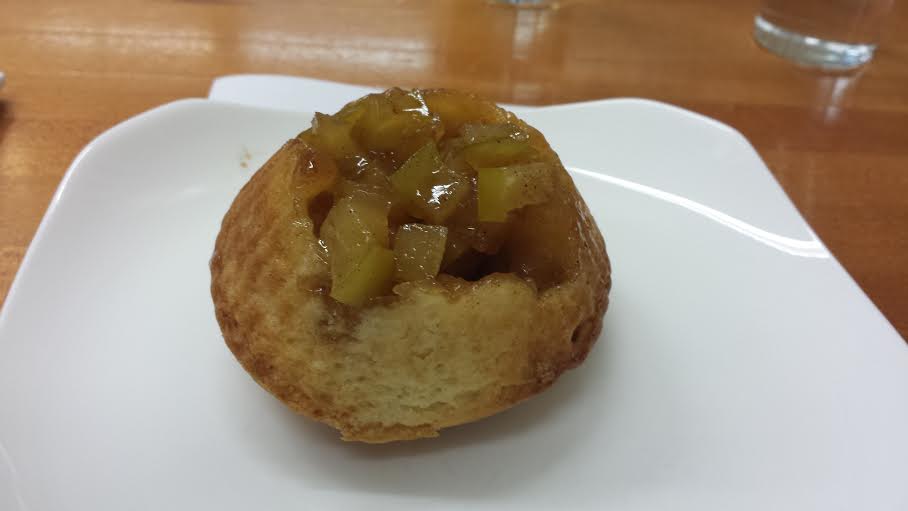 Kayaking – We went with Nature Adventures Outfitters and had an awesome time as you can see in the pic below. (Shhh…Mr. TK did most of the work.)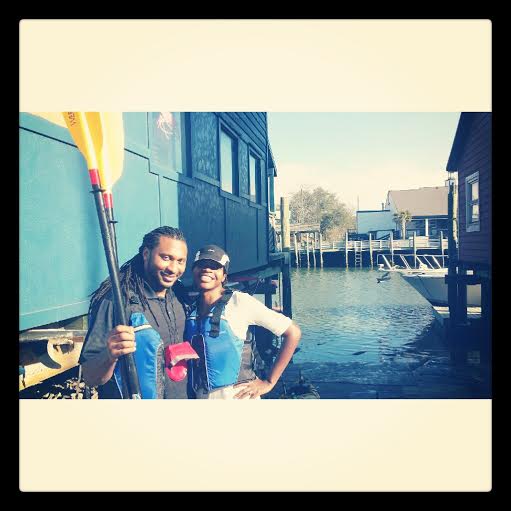 Shopping – Charleston has no shortage of chic boutiques and shops on King Street with everything from artwork to shoes so pick your poison. If you can, go off the beaten path and grab one of the many items constructed with the area's sweet grass. This unique and beautiful practice dates back to slavery. You can learn more about the authenticity of this craft here.
EAT!
I do not think it is possible to have a bad meal in Charleston. I love seafood which is plentiful in the Lowcountry so I was in culinary heaven. I suggest sampling at as many places — in as many different price points — as possible. And you cannot leave Charleston without tasting some authentic shrimp and grits. (Locals also rave about the boiled peanuts but I honestly didn't get their hype after tasting.)
A note about Hyman's – Although locals will probably urge you to avoid this place like the plague, Mr. TK and I quite enjoyed our meal at the "touristy" restaurant. The customer service there was top-notch. Go figure.
BRIDAL BLISS!
Stay tuned for part II of this post with a complete list of trusted bridal professionals to help pull off a Triple B wedding in Charleston beautifully.
Sidebar: Even if you're not remotely close to planning your own destination wedding in Charleston, I challenge you to consider stateside jaunts — especially those that might be right in your backyard — if grand international travel is not at option for you at the moment. Just because you're watching your wallet doesn't mean you can't still enjoy a fab (and affordable) getaway!
ADDENDUM – An old friend recently vacationed in Charleston for his 15th wedding anniversary and now proclaims, "You cannot visit Charleston without going on Al Miller's Gullah Geechee Culture Black History and Porgy & Bess Tour." Although I did not get to experience a tour with this company personally (I did take a similar one a few years back while visiting Hilton Head), they are highly recommended and a must if you haven't been introduced to the Gullah and Geechee culture. Visit Sights and Insights Tours for more information.
As always, if you contact any of these folks, be sure to mention Black Bridal Bliss sent ya.
Have you ever been to Charleston? What were your thoughts on the city?