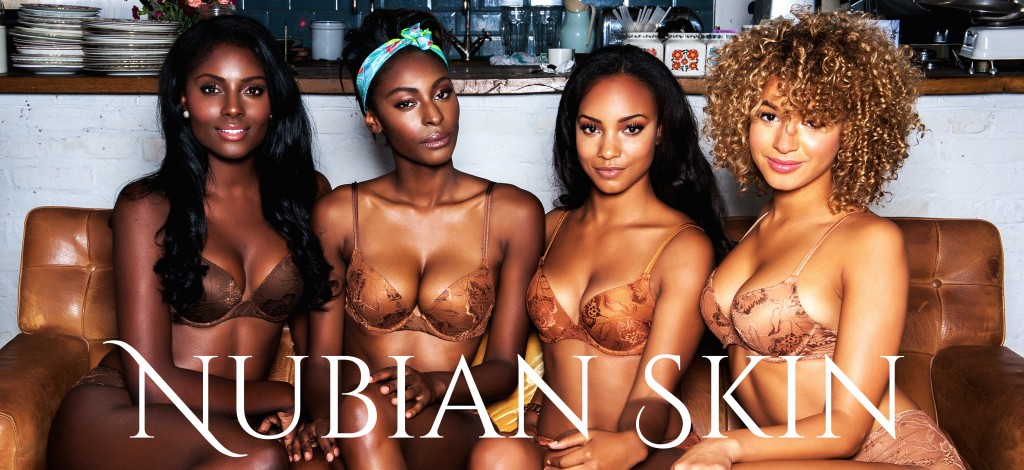 As a woman with a dark chocolate complexion, I'll forever be grateful to my parents for instilling a positive self-image in me from an early age. As an adult I realize what they managed to do was no easy feat. I still have a few issues with my image — but thankfully my complexion (or hair texture/length) has never been among them. Yet, the reality is the rest of the world — and especially the fashion and beauty industries — is for the most part obsessed with light skin. So although you'll never catch me trying to bleach mine, it is annoying to say the least when searching for bandaids, hosiery, lingerie, etc. to match my ebony tone. In fact, the rare times I do find a bra/panty set in my shade that is actually  cute, I literally get excited. How cool it would be to have a go-to resource for brown women that offered affordable and stylish undergarments in a range of brown hues, right?
Enter Nubian Skin.
I recently learned of Nubian Skin via social media. Everyone is buzzin' about it and for good reason. The e-commerce on the site is scheduled to go live the beginning of October 2014 with four shades of brown from caramel to dark chocolate. Nubian Skin is launching with size 30B up to 36DD/E which is a pretty impressive range for a debut. They're even going to offer hosiery! For more deets on this genius endeavor, head to their FAQ page.
Sidebar: Since I called out the fashion industry earlier in this post, I feel I should mention the bold move Christian Louboutin made last fall by expanding his nude shoe collection. Baby steps I guess…
Get the scoop on more under-the-radar lingerie offerings here.