Kim who? Chile, please. Solange broke the Internet! The 28 year-old singer, DJ and Puma creative director wed her longtime boyfriend Alan Ferguson in New Orleans yesterday — complete with a second line — and the Internet went ba-na-nas. Here's what all the hoopla was about and what we can all learn (or be reminded of) about wedding planning from the stylish newlywed plus plenty of swoon-worthy pics and an aww-inducing video clip from the creative all-white affair.
Stick to what you know. Solange wore designs by her good friend Humberto Leon for Kenzo on her wedding day and she appeared comfortable, confident and chic. What else could a bride ask for? Even if you don't have a designer BFF on speed dial, relying on silhouettes that you've rocked before and feel good in is probably a great idea.
Can we please stop training little girls to think their hair has to be straight for special occasions? I was one of those little girls that always got a fresh press and curl for Easter Sunday and school picture day so I totally get the history. But when we make straightening our little girl's manes an absolute must for "special events", we send them a dangerous message. Blue Ivy's big afro was nothing short of adorable for her auntie's wedding day. Hopefully it sets a trend for the rest of us.
Jumpsuits are hot. We already knew this but Solange solidified it. Thanks, Solo!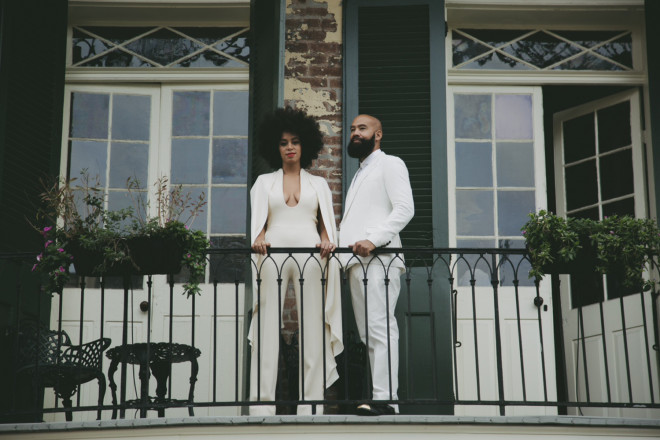 Being green is cool, especially on your wedding day. Forget about gas guzzling stretch limos. Solange and Alan riding white bicycles for their wedding day transportation just increased the cool factor for being green on one's nuptials. (Vintage school buses were also used to shuttle guests from ceremony to reception.)
Family (and friends who are like family) first.Yep, ElevatorGate happened. The Knowles-Carter clan has their share of drama just like any other family. But that didn't stop Jay Z from suiting up and joining his wife in celebrating her sister's new union. Even people that love each other sometimes fuss and fight. But they can also forgive. Love doesn't keep score. Check out these joyous pics of Mr. and Mrs. Carter with their nephew (Solange's son Julez) below.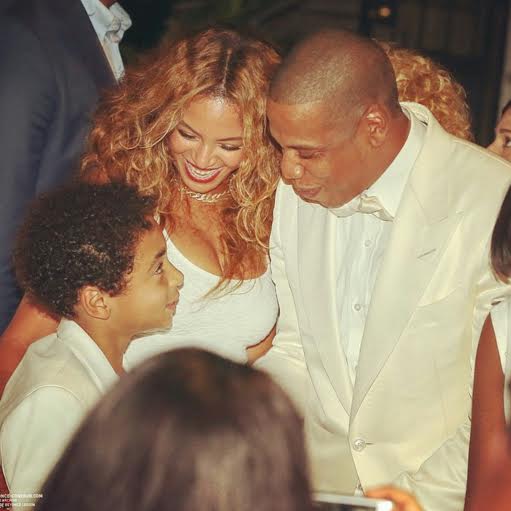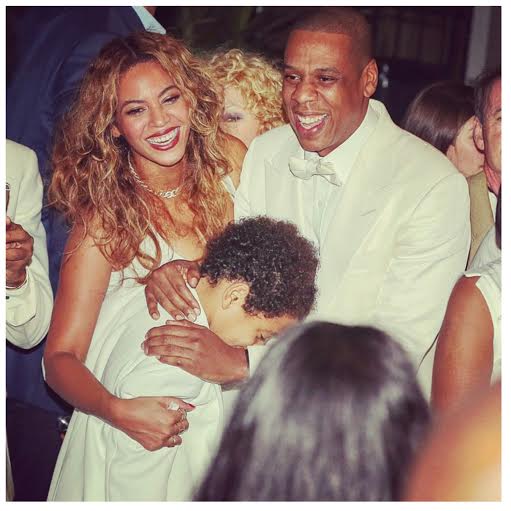 *Bonus* On the Friday evening before their wedding, the couple invited guests to view of a short film (fitting since Alan is a film director) detailing their love story prior to a screening of Mahogany which the couple reportedtly watched on their first date. Personal touches like these are what help make a wedding memorable.
But, the most touching part of this entire affair just might be the choreographed dance Solange and her baby boy Julez performed to No Flex Zone! Not surprisingly, many children feel left out when one of their parents ties the knot but that didn't appear to be the case for Julez. Just watch.
Here's what the beautiful bride shared with Vogue Magazine about her nuptials:
"Everyone I worked with on the wedding are friends who I love.  Everything was a labor of love."
Congratulations to the couple and best wishes for a happy and healthy marriage!

Be sure to stop by our Instagram page for additional photos from this memorable wedding.
[Bridal portraits via Vogue.com.]