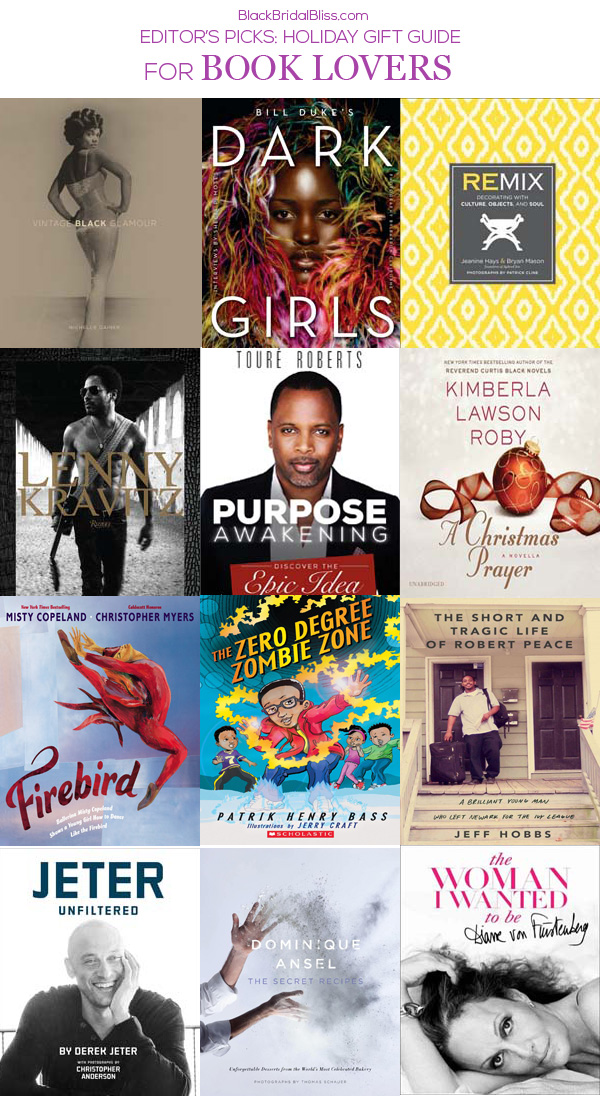 COFFEE TABLE: Vintage Black Glamour, $71; rocket88books.com-Derived from the blog of the same name, Nichelle Gainer's Vintage Black Glamour showcases rarely seen images of our most talented actors, singers, writers, and entertainers of the 20th century. And real people are included too!
CELEBRATING OUR BEAUTY: Dark Girls, $35; harpercollins.com-You've seen the moving documentary, now own the companion book that celebrates the beauty of our deep-hued sisters. Stunning images accompany interviews of well-know and everyday women. And how gorgeous is Lupita N'yongo's cover?
DECORATING/HOME DECOR: Remix: Decorating with Culture, Objects and Soul, $30; randomhouse.com-Husband/wife design duo and AphroChic blog founders Jeanine Hays and Bryan Mason show readers how to bring global style and infuse color, pattern and culture into their homes. With images shot by Lonny co-founder and photographer Patrick Cline, AphroChic takes you into homes of real people and ends with a look inside Jeanine and Bryan's own Philadelphia abode.
CELEBRITY: Lenny Kravitz, $60; rizzoliusa.com-Lenny Kravitz is our rock god and this captivating photo collection is nothing short of brilliant. Spanning his career from the early 1980s to now and featuring some of the biggest names in photography (including Mark Seliger, Patrick Demarchelier and Matthieu Bitton), Lenny Kravitz is the intersection of music, design, fashion and style.
SPIRITUAL: Purpose Awakening: Discover the Epic Idea That Motivated Your Birth, $15; hachettebookgroup.com-LA's One Church International Pastor Toure Roberts reminds us that "you don't find purpose, purpose finds you." This practical guide is complete with personal anecdotes and humor to help readers overcome fear, grow their faith and find their purpose. Roberts' purpose now includes new wife, Sarah Jakes, an in-demand motivational speaker, author, and daughter of mega pastor TD Jakes. Check out Sarah's latest book Lost and Found: Finding Hope in the Detours of Life, $20; store.tdjakes.com.
NOVELLA: A Christmas Prayer, $20; hachettebookgroup.com–New York Times bestselling author Kimberla Lawson Roby takes a break from her sizzling "Reverend Curtis Black" novels to tell the story of Alexis Fletcher, whose life hasn't been the same since her mother passed five years ago. Armed with a dreamy new fiance, Alexis wonders if she will make it to the altar and finally embrace the holiday season, or if everything will come crashing down.
FOR GIRLS: Firebird, $18; penguin.com-American Ballet Theater superstar Misty Copeland tells the story of a young girl unsure if she has what it takes to make it in the dance world. With Misty's encouragement, she finds the strength in herself and strives to be "Firebird." Illustrated by Caldecott honoree Christopher Myers (son of award-winning author and children's book icon Walter Dean Myers).
FOR BOYS: The Zero Degree Zombie Zone, $7; amazon.com-Award-winning journalist Patrik Henry Bass delivers a fun, zombie-filled journey for middle-grade readers starring an African American boy as the lead character. With vibrant illustrations by Jerry Craft, this book comes at a much-needed time to foster the love of reading in our Black boys that will hopefully last a lifetime.
FOR MEN: The Short and Tragic Life of Robert Peace: A Brilliant Young Man Who Left Newark for the Ivy League, $27; simonandschuster.com– Robert Peace walked the fine line that many of our brothers (young and old) must manage each day. With one foot in the gritty streets of 1980s Newark, New Jersey and the other in the tony, Ivy-covered halls of Yale University, Peace's heart-wrenching story of a life cut short of the dream also serves as a cautionary tale written by his friend and Yale roommate, writer Jeff Hobbs.
SPORTS: Jeter Unfilitered, $28; simonandschuster.com-This is the only authorized book celebrating iconic New York Yankee Derek Jeter's storied 20 year baseball career. Readers will enjoy never before seen photos of Jeter's final baseball season, his fortieth birthday party, inside his home and other parts of his life previously off limits by the notoriously private sports star.
COOKING:Dominique Ansel: The Secret Recipes, $35; simonandschuster.com-Delve into the delectable secret recipes of Chef Dominique Ansel, creator of the now famous Cronut pastry (a croissant/doughnut hybrid) as he shows dessert lovers how to re-create his famous confections in their own kitchens.
FASHION: The Woman I Wanted to Be, $28; simonandshuster.com-Astute businesswoman, legendary fashion icon (she invented the wrap dress y'all), mother, grandmother and philanthropist Diane von Furstenberg's memoir is a manual for women on how to live the life they want.
*Bonus: Journey of a Dress, $75; rizzoliusa.com-This is the perfect gift for cult DVF fans who missed her "Journey of a Dress" exhibit earlier this year. The image-rich coffee table book chronicle's the legendary designer's career from the launch of her iconic wrap dress in 1974 until now.
Check out our top holiday gift picks for the home here.