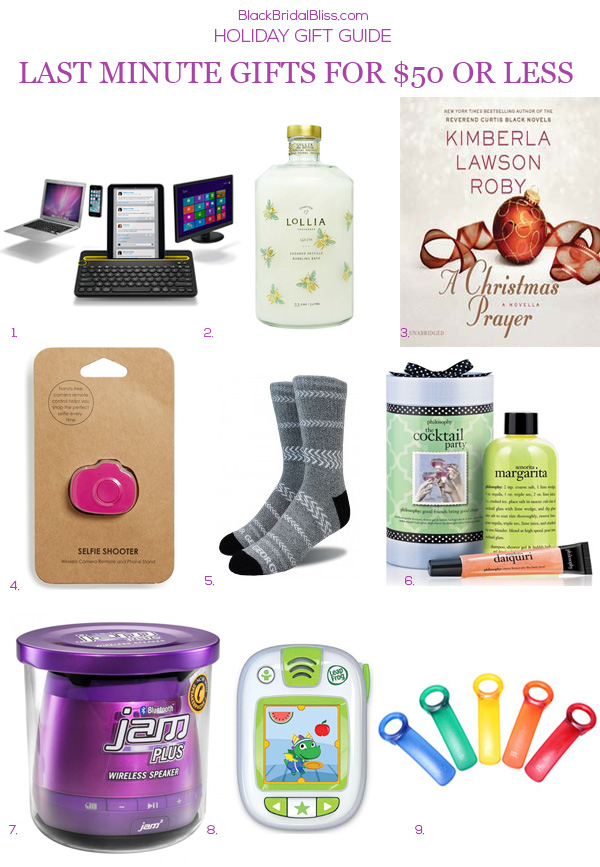 Shopping at the last minute? Can't believe it's already December 17th? No worries. Triple B's editors compiled our "9 Fab Finds" from our Holiday Gift Guide series and they're all $50 or less.
1. Logitech Bluetooth Multi-Device Keyboard, $50; logitech.com – Yes! This keyboard works with your computer, tablet, and smartphone. For all those that work and play with technology all day, this is almost a must have.
2. Lollia Wish Bubble Bath, $49; lollialife.com – Most people above the age of 12 will agree an uninterrupted bath is a luxury in and of itself. Why not take it up a notch with this decadent bubble bath? The packaging is gorge and includes real gold leafing. (This pick defines affordable luxury!)
3. A Christmas Prayer–$20, hachettebookgroup.com – New York Times bestselling author Kimberla Lawson Roby takes a break from her sizzling "Reverend Curtis Black" novels to tell the story of Alexis Fletcher, whose life hasn't been the same since her mother passed. Alexis wonders if she'll make it to the altar and finally embrace the holiday season, or if everything will come crashing down around her.
4. "Selfie Shooter" Wireless Smartphone Camera Remote, $20; nordstrom.com– Trying to take the perfect selfie is a first world problem many tweens are guilty of…Now there's a way to help. With the "Selfie Shooter", a wireless remote for your cell phone camera — all you have to do is put your phone on a stand, press a button and you're free to pose.
5. Arthur George by Rob Kardashian Socks $15, agsocks.com (style shown: Arrows) – These are awesome conversation starters. Who am I fooling? If she can see your socks, there probably isn't much of a need for conversation, right?
6. Philosophy Gift Set, $20.00; philosophy.com – Who doesn't have a girlfriend who enjoys a cocktail or two? Wow her with this delicious smelling gift set!
7. Jam Plus Wireless Bluetooth Speaker, $50; jamaudio.com – Listening to music through headphones is one thing but playing it out loud wirelessly makes for a more enjoyable experience. The great sound quality you can get from this small speaker will amaze you.
8. LeapFrog Leapband (Green), $45; kmart.com – In the last few years we've seen fitness bands become even more popular with adults to help them stay in shape. This concept has expanded to children to help them stay active, too.
9. JarKey $5, containerstore.com – Stuff their stockings with the best kitchen gadget ever invented. Use the hollow end to release air from any jar and tops twists off with ease. Life changing!
Revisit our other holiday gift guides: Luxe, Tech Finds, Books, Home, Men, Women and Children!