At last week's Ultimate Date Night Soiree in Charlotte (We had a blast by the way, pics to come soon!), one of the planning brides in attendance expressed that she was regrettably still searching for affordable floral options for her big day. While I had several of tips of frugal floral finds to share with her, it reminded me of an awesome floral resource I'd yet to gush about here: Eco Flower Weddings!
Let me get something out of the way: I'm not a fan of traditional faux flowers. But I'm well aware of how costly the real deal flowers can be, particularly for an affair like a wedding. The thought of spending thousands of dollars on an element of your nuptials that will die in a few of days may not be on your bridal to-do list. Especially if you lack a green thumb like me. But EcoFlower uses 100% recycled materials that do not look cheesy or gross. Seriously.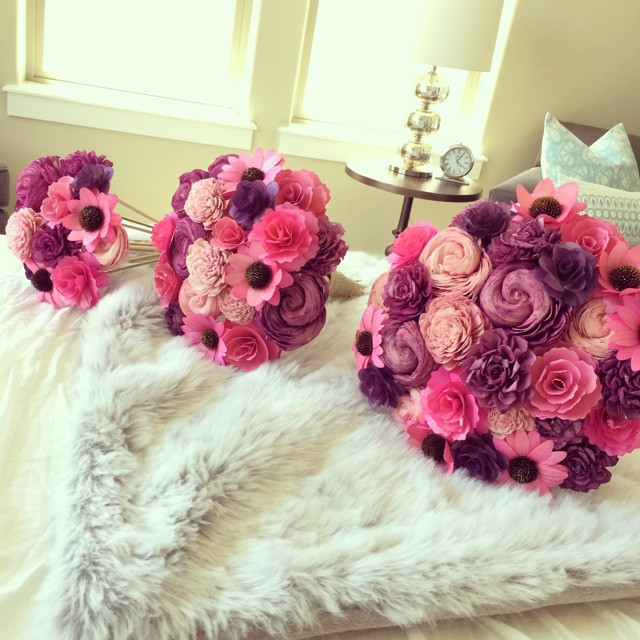 Utah-based Chelsea DeCloedt founded EcoFlower Weddings after witnessing her beautiful (
and expensive!
) bridal bouquet wither away to nothing after her own wedding day. A registered nurse by trade, Chelsea discovered that she enjoyed combining her passion for crafting, an appreciation of sustainability, and her love for weddings. Thus, Eco Flower Weddings was born. Using materials like recycled wood and paper, gorgeous bouquets, corsages and even centerpieces for a wide range of color palettes are available to brides and grooms — they offer boutonnieres too. This is an especially cool option for
eco-friendly couples
. And if you're worried about these "flowers" lacking a fresh scent like the real ones do, you can have your creations delivered with aromas such as lavender and black raspberry vanilla at no additional charge. Prices start at $24.99. View more pics and pricing
here
.
If you reach out to EcoFlower, be sure to mention BlackBridalBliss.com sent ya!
Get more floral ideas for your wedding here and here. What type of flowers are you planning to incorporate into your big day?