September 15, 2012. I will never forget that date. It is the day my now husband proposed. It was a beautiful late summer afternoon. The temperature was in the mid-80s. Warm but not too hot. He requested I wear a dress. I obliged and rocked some heels for good measure too. We got an early start and headed to one of my favorite NYC chill spots, Fort Tryon Park in upper Manhattan. We took pictures of each other, asked strangers to take pictures of us together, took pics of the gorgeous scenery, flirted, kissed, laughed and just enjoyed each other.
In hindsight, he must have been drowning in anxiety knowing what he was planning to do later in the day.
Once leaving Fort Tryon Park, we drove nearly two hours to the cemetery where my father is buried. My father's birthday was quickly approaching so my husband suggested we head there for me place flowers on his grave and more importantly "talk" to my dad a bit. Seemed like a great plan to me. My husband had accompanied me there before so I didn't think much of his suggestion.
About 15 minutes after our arrival, he pulled out a ring box. Inside was an amethyst sparkler — my favorite gemstone. An extra bonus is the ring itself has priceless sentimental value. A few minutes later…He popped the question, I said yes and we were engaged!
The feeling I had in those few minutes is hard to describe. I was shocked, nervous, excited, overwhelmed with bliss — all at once. The last thing a woman needs to worry about at a time like this is sweating or odor. Yuck! That's why I've partnered with Simply Stylist and Dove to make sure you're prepared for these types of moments in your own life. Be it a marriage proposal or the important days that will likely follow including your engagement party, bridal shower, bachelorette weekend, rehearsal dinner, wedding day (woo hoo!) and even your honeymoon. I mean, who wants to worry about underarm issues during the ultimate baecation?!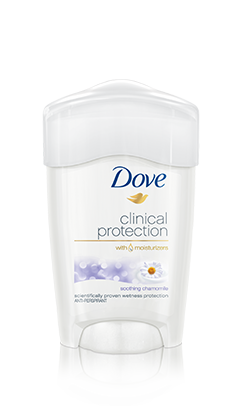 Dove Clinical Protection offers undeniable wetness protection and has ¼ natural moisturizers like vitamin E and chamomile to care for skin. In the new Amazing Moments campaign by Dove, the tried and true brand puts its Clinical Protection Antiperspirant to the test during a real woman's surprise proposal to the love of her life. Click on the video below or visit Dove.us to view the film and witness the aww-inducing proposal for yourself. (Warning: It'll warm your heart.) Sometimes the moments that make us sweat are the most amazing moments of all. Make sure you're prepared!
How are you ensuring your bridal bliss isn't interrupted by sweat? Share with me in the comments.