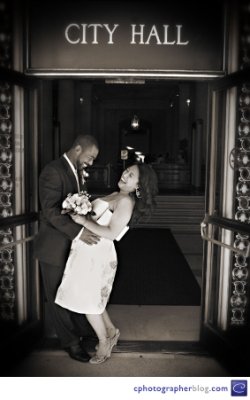 Last week I wrote about city hall nuptials and the post received quite a bit of feedback. Most of you agree that there is absolutely nothing wrong (or bootleg or tacky) about getting hitched by a justice of the peace. New York City for example has recently made the experience surprisingly memorable for couples. However a couple of you (thanks Ronda A.!) pointed out that a marriage is still a celebratory occasion. Family and friends want to enjoy it with the newly married couple in some capacity. Are there truly realistic and practical ways to execute a stylish city hall wedding? Absolutely! Here are my five suggestions for pulling it off:

Look the Part Follow Carrie Bradshaw's lead and design your own signature wedding look (She rocked cobalt blue stilettos with a suit…maybe you'll opt for a floor gazing sundress with metallic jeweled thongs.) Whatever you decide to wear, however you decide to style your hair — just remember to smile, smile, smile. It is by far our best accessory.

Flower Power Fresh flowers make everything prettier. Even if you and your beau are driving to the courthouse to do the deed by yourselves, carry a bouquet. It will help make you feel like a true bride. Bridal budget bite: Purchase roses, lilies, tulips, peonies and more from your city's local flower district to snag buds wholesale instead of going to an expensive florist.

Enjoy the Moment Maybe your "wedding" isn't taking place in a fancy venue but that doesn't mean you should deny yourself the joy and bliss of the event. Take the time to soak it all up; get giddy and even nervous if the spirit moves you. This is your special day so allow yourself to revel in it!

Share with Loved Ones You're about to make a lifelong commitment to someone; this isn't a daily occurrence. Sending out formal announcements may seem hokey (or maybe not) but find your own authentic way spread the word that you are officially a Mrs.! Just because you didn't say "I Do" with a gang of bridesmaids behind you shouldn't make your union any less exciting.

Fiesta Time! Consider hosting a reception with your family and friends after your city hall nuptials. It can be later that day or even a month later. Don't feel pressured to rent a high-price location for the affair either. Anything from a large backyard to you and your honey's fave restaurant can do the trick. This is an excellent way for loved ones to help celebrate your union without the enormous monetary obligations and stress of a typical ceremony and reception.

Do you have your own chic tips for jumping the broom at city hall? Please share them in the comments below.