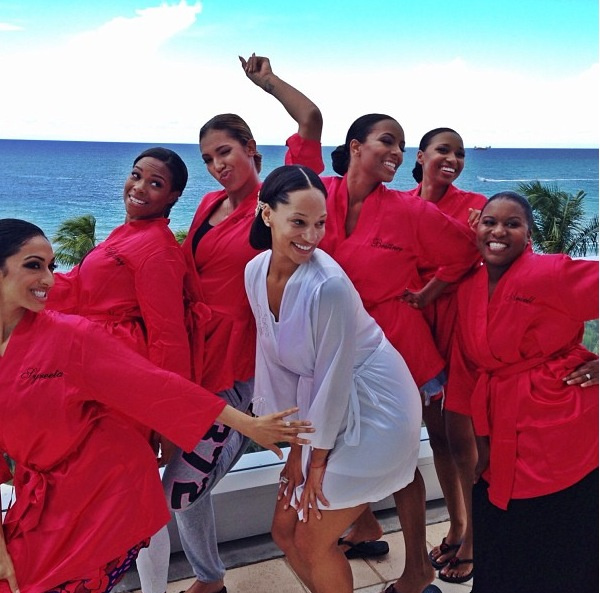 Being a bridesmaid isn't easy. I know, I've been one…hmmm, let's just say a lot. There are dozens of ways for brides to piss their attendants off in the midst of wedding planning but below are five painless ways to keep friendships in tact so that your girls are still your girls by the time you leave for your honeymoon.

Remember You're Getting Married, Not Everyone in Your Circle Planning a wedding, yes even a small, low-key one, can become all-consuming. But your bridal party still has lives to lead. In Mr. TK and I's bridal party, we have a friend who is a hiccup away from closing on a home, a friend who is planning a pretty lavish Sweet 16 party for her daughter and another friend who is actively seeking full-time employment. Needless to say our wedding is important to them all but they have other ish going on in their lives that often takes precedence.
Be Considerate When Selecting Their Attire Blowing $300 (after alterations) for a dress you'll likely only wear once is lame. Very lame. J. Crew, Ann Taylor and a plethora of other fashionable and affordable resources now offer bridesmaid dresses. And keep in mind that any dress can be a bridesmaid dress if it fits your vision so don't be afraid to think outside the box. Hello H&M!
Try to Pick Up the Tab For Something I'm providing the jewelry and shoes for my bridal party. FYI – They all approved the shoes before I ordered them. (This doubles as a way to keep the look cohesive since they're selecting their own dresses.) I am planning to cover the cost of their manicures as well. Maybe you want to pay for your bridesmaid's hair styling and/or makeup application. The latter two can probably be obtained at a discounted rate if you have three or more bridesmaids. Some couples cover any necessary hotel costs for their bridal party. Mr. TK and I cannot afford that but if you can, it is a nice (and much appreciated I'm sure) gesture.
Realize That All of Your Friends Might Not Be Friends Hopefully you don't have to break up any catfights before your big day but the reality is a random joining together of people from different walks of your life might lead to friction. Your neighborhood childhood friend, your old college roommate and your fiance's sister all love and support you but that doesn't mean they have anything else in common. Gathering all the major players in your wedding together for a brunch or intimate dinner party could be a nice way for everyone to get to know one another before the wedding.
Give Thank You Gifts Use the Triple B search engine to find a number of fab and frugal bridesmaid gifts. (shameless plug) Some brides go all out and splurge for fancy designer handbags while others keep it simple with a keychain. The choice is yours and the aim isn't to go broke but rather to express your appreciation for your bridesmaids time and support. Keep your gift thoughtful and include individual notes. A handwritten note goes a long way. BONUS: If you're having a guy join the bridesmaids in your bridal party, hook him up with a gift too.
 How are you ensuring (or did you ensure) your bridesmaids feel appreciated? Share in the comments!