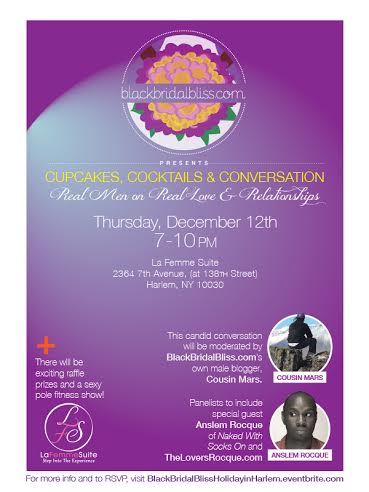 Ahem…Is this mic on? Ladies and gentlemen, BlackBridalBliss.com is having an event in NYC — the very first one ever! That's right, Triple B is hosting an event in The Big Apple. On the heels of the widely successful Best Man Holiday film, Triple B is rounding up fellas (single, married and unmarried but in a committed relationship) to discuss all things love and relationships. Next month on the evening of December 12th in Harlem, your favorite male blogger Cousin Mars will moderate this lively discussion at the uber-sexy La Femme Suite. There will be a chance for questions and answers so the ladies can weigh in, too. As if that wasn't reason enough to get excited (and because Triple B loves alliteration), there will also be tasty cocktails served along with yummy cupcakes provided by Sydney's Sweets. Plus La Femme Suite will be raffling off exciting prizes and providing a pole fitness show. The very best part, folks? All of this is f-r-e-e!
For more information and to RSVP, click here. Aren't in NYC? Forward this link to your loved ones who are in the Empire State. Space is limited so don't delay!
P.S. – Because Triple B is adamant about giving back and the importance of literacy, we're asking that all guests bring along at least one children's book. The books will be donated to an area hospital.
UPDATE: After less than a week of being announced, this event is officially SOLD-OUT! Many thanks for your support. Didn't RSVP in time? No worries, we plan to take Cupcakes, Cocktails & Conversation on the road. Stay tuned for details on the next city.