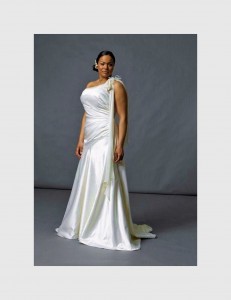 Today I'm sharing my interview with the talented fashion designer of Cc. elaine. Indianapolis-based designer Caren Johnson, mastermind behind Cc. elaine, created a couture bridal collection that fills a great void in the market. Many plus-size brides experience frustration when looking for their dream dress.  Caren believes every bride deserves selection and sample sizes that fit.  Her Curvy Chic Collection is filled with organic textures, floral inspiration and couture embellishments. Keep reading for her take on the seasons hottest trends, the importance of the right undergarments and more!

Black Bridal Bliss: Are there any bridal trends for the season that curvier women should embrace? If so, which ones?
Caren Johnson: Sheers! Lots of tulle, silk chiffon and silk organza draped in lushes layers makes for a luxurious look without the weight or volume of a traditional princess style gown. Lace is also making a fierce comeback as more brides are seeking a bit of romance and femininity. The fit and flare or trumpet style skirt should be embraced as well. It offers a sensual yet sophisticated look.
BBB: Are there any they should avoid?
CJ: The one style that I would suggest that a really curvy bride avoid is the bias cut. It is a style that tends to skim the body and when you have great variations between the bust, waist and hip, the side seams and zipper seam often pucker and that's not flattering for anyone.

[cincopa A4BAdi6o4Owv]
BBB: How important are the proper undergarments for any bride (regardless of size)?
CJ: I highly recommend that brides wear a good [supportive] foundation garment.  It offers a great lift to the bust and a smooth finish to the bodice of any dress.
BBB: What fit tips can you share for those brides that are: busty, hippy and/or apple-shaped?
CJ: The key element to consider for any body type is to balance out your figure.
If you are busty, consider a look that has a definite flare to the skirt. This will create the illusion of an hourglass figure that I think most women want to achieve.
Another feature to look for is the empire waist detail. The measurement just under the bust is smaller than the fullest part of the bust as well as the waist. When this ares is accentuated with beading, a belt or some other detail, it provides the look of a smaller waist.
If you are hippy, make sure the flare of your dress bottom starts just above the widest part of the hip. This will accentuate the waistline and provide a hint to the curviness of your hips.
Contact Caren directly here and be sure to tell her BlackBridalBliss.com sent ya.
Check out this interview with more expert fit tips for brides of all sizes and shapes!