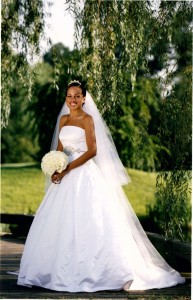 If I had a dollar for every time a bride told me how overwhelmed she is with planning or when a newlywed expressed how f-a-s-t their wedding day went by, I could book myself a sweet London vacay. (Well, I hope to do that soon anyway.) But my point? Brides seemingly need all the assistance they can get on their big day. Stacey Seabrook identified this need and developed S2Stylists, a NYC-based bridal dressing and styling company.
The philosophy of S2Stylists is that all brides need a dresser by her side, to make sure her look is flawless as she walks down the aisle, gets photographed and receives her guests. The company extends dressing services to the entire bridal party including the groom. S2Stylists travel across the country and abroad to dress brides and shops with clients for the bridal gown and accessories, tuxedos, honeymoon trousseau, and party wear. Pretty cool, huh? Founder and head stylist Seabrook studied apparel design and has worked in the fashion industry for the past 15 years. She has developed and maintained stellar relationships with the movers and shakers of the bridal world and throughout her career dressed thousands of brides…and counting.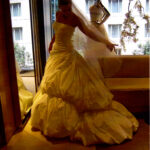 S2Stylists are available to do everything from schedule appointments at NYC's premier bridal salons and have a stylist accompany you to said salons, arrive to your home and/or ceremony site to prep garments and assist with dressing, be on-hand in case of a stain or rip emergency and more! All services are preceded by a complimentary consultation.
I know some of you are thinking, I can get my sister, BFF, cousin or mama to do all of this for me. Well, if your sister, BFF, cousin or mama has Seabrook's credentials and have the free time to make such commitments…cool. But if not and you can truly afford this service (I always suggest budgeting wisely, folks.), I think S2Stylists are worth looking into for one of the most important days of your life.
For price info and other specifics on booking Seabrook's services, email her at:. [email protected].
(Images courtesy of S2Stylists)