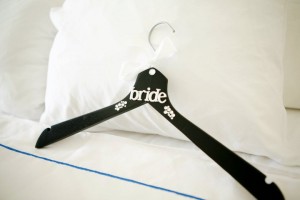 I first fell in love with customized bridal hangers while viewing the wedding trailer of Virdina and Kevin last year. (I'm a true sucker for anything personalized; blame it on my parents.) Since then, they've popped up in countless Tie the Knot Tuesday weddings because let's face it — they make that all important gown shot every wedding photographer must catch even more special. Newlywed Kim Kardashian even tweeted a picture of her custom gown hanger on her wedding day.
There are a slew of retailers/vendors offering these hangers now but I've found a huge assortment of styles — including a variety of wood finishes — and price points on Etsy. FYI – The prices seem to range from $16 to $26. Nearlyweds, you can also consider snagging these hangers for your bridal party. And for those of you who aren't planning your own trip down the aisle, remember that these hangers make an excellent bridal shower gift!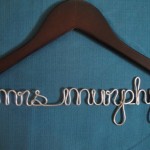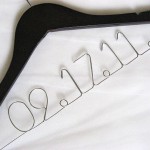 What do you think of these customized hangers? A bride's must-have or a waste of money?
Peep more of Charli's fab wedding here.