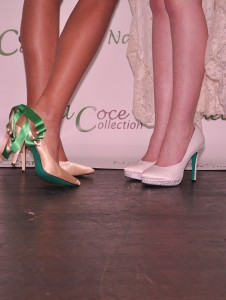 I recently traveled to Baltimore, Maryland to attend the launch of a fabulous new shoe line, Nael Coce. Nael Coce is the brainchild of PhD (yeah, you read that correctly) student, Sheena Young. Sheena's mission was to create a line of footwear that was both fashionable and functional. This line actually offers "convertible" shoes — a pair of comfy ballet flats and pumps in one. Kinda genius, right? And there's a few bridal options, too!
Sheena being the brainiac that she is figured out some way to incorporate an antibacterial component to the flat shoes so that you can slip them into the heels. Read her explanation of it all here. What I do know is that the shoes are affordable — they all retail for $100 or less — and Sheena is planning to expand the collection with new styles. Another plus? All Nael Coce's styles are available in sizes 5-11. I fell in love with the ribbons on the Ambi Charm ($100) and think they're a great bridesmaid option.
A huge plus of attending the Nael Coce launch was hearing a live concert from R&B singer, Mario. I'd heard the fella belt out some of his hit tunes before and he never disappoints. But it was a certified treat to experience his talent in such an intimate space. Plus I'm a sucka for "celebrities" who take time out to support their folks on the come up and Mario did just that by attending — and performing at — his fellow BMore homie's shoe launch. Good stuff all-around.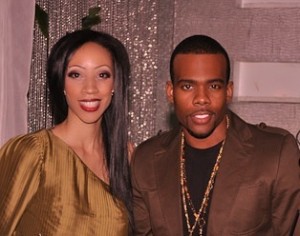 When you stop by Nael Coce, be sure to mention BlackBridalBliss.com sent ya!