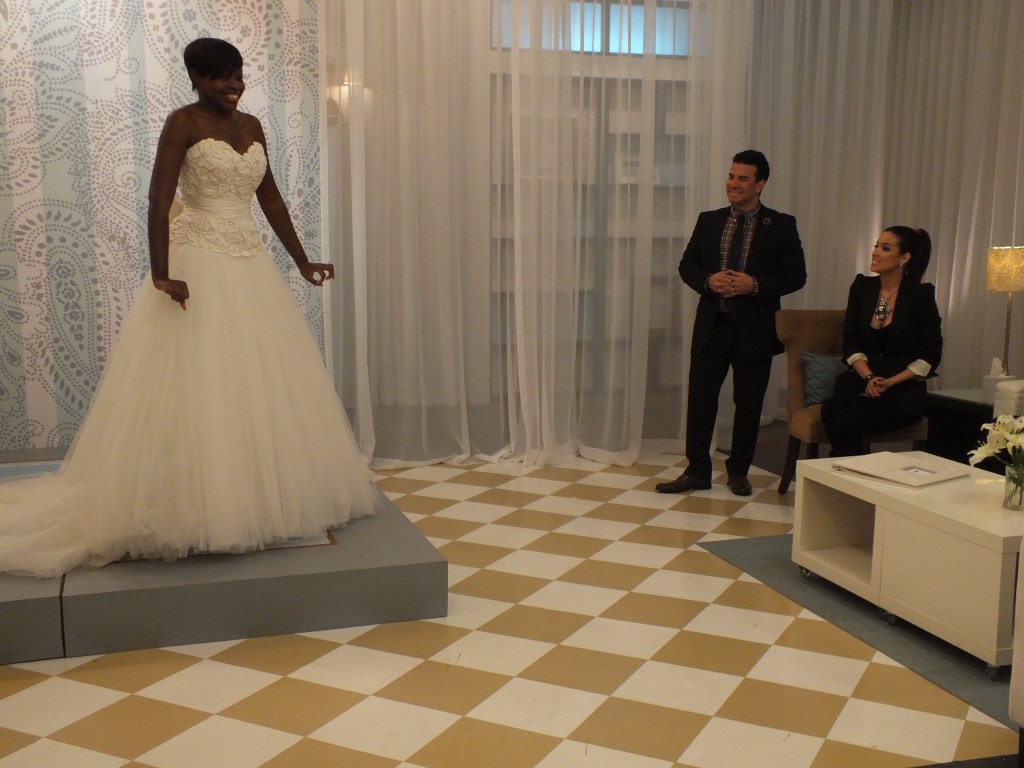 After going gown shopping with the talented (and hilarious) Sam Saboura for TLC's Something Borrowed, Something New, I knew I had to get Sam on Triple B to share his wedding gown expertise. Check it out:

Black Bridal Bliss: What is the ideal number of people a bride should take with her wedding gown shopping?
Sam Saboura: Two-three members feels like the right amount for a shopping entourage. More than three can slow the process down—especially if you're an indecisive shopper. The trick is to bring an entourage that supports you. Bring friends and family members that are honest but respectful, supportive and open. Remember it's your day and your dress—and hopefully your entourage will remember that too.
BBB: What are the best dress silhouettes for the following body types?
SS: Hourglass: I like a fit and flare styles for the hourglass, which complement and balances curves. Think about boot-cut jeans and how they work to balance fuller hips and thighs. Corseted styles work well to make the most of your smaller mid section. I like dresses with structure that hold you in and show off your silhouette, which can be totally sexy on it's own. Drop-waisted styles are also nice on the hourglass, just make sure the bottom of the dress has a little kick to keep you in perfect proportion.
Triangle: The triangle, or pear-shaped, body type is best served by dresses with an A-line skirt or a soft modified A-line. Your smaller upper body will benefit from semi-sweetheart necklines and those that are straight across which help to maximize your smaller bust and narrow shoulders. A boat neck is a great option as well, especially for more modest affairs. Square necklines maximize your bust and shoulder at the same time, and embellished bodices are a wonderful way to fill out your small upper half. Princess style dresses, or those with fuller skirts like a ball gown, give you great shape at the waist and perfect coverage over fuller hips and thighs.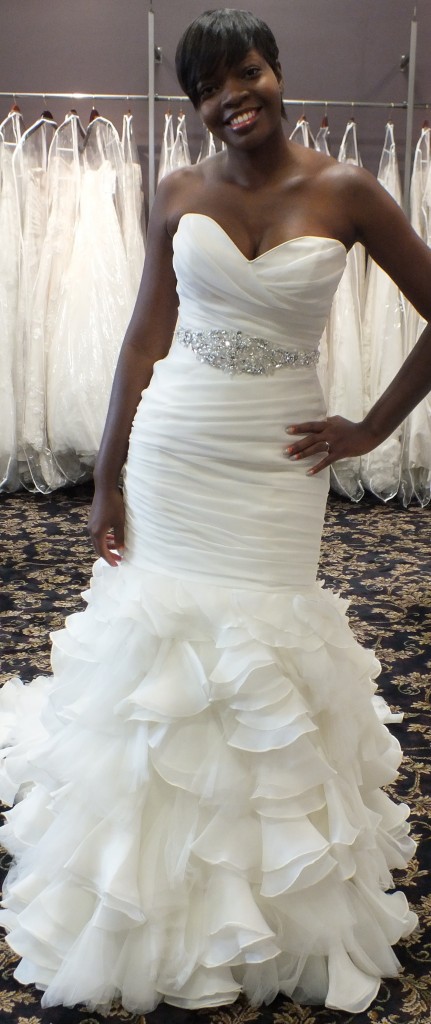 Inverted triangle: Drop waist dresses are a perfect choice for this body type because you the have option to conceal your upper half or highlight your curves. Your skirt should have some volume to balance the lower half of your body with a fuller skirt or flare that starts after the drop on the waist. Since you usually have great leg a shorter style is always an option. V-necks, cowls, scoops and sweethearts all work well to minimize your bust and shoulder line. You should consider straps and make sure they are in line with the size of your shoulders and torso.
Short-waisted: Brides who are short-waisted will want to create the illusion of extra length in their torso. You can do that with column dresses that add tons of length to your entire frame, if the fabric is bias cut it will help find your natural curves and still give you shape. Classic A-line dresses with a Basque waist, which comes to a scoop or point just below your waistline, work wonders to elongate your torso. You should also try empire waist gowns, which fit at the bust and then fall or flare out just beneath it.
BBB: Why is it important for a bride to bring proper undergarments and heels to gown appointments?
SS: You should have an idea what kind of undergarments you plan to wear on your big day, and once you do it's an excellent idea to bring them along. Your dress may have a built in corset and not require a bra, but it's a good idea to bring one for sanitary reasons and for lift and support. If you know you'll be wearing a slimmer on your wedding day you should definitely try the dress with them on—this is super important for all your fittings as well to ensure proper tailoring. I'm a big fan of heels, always. Heels make you stand straighter and taller and they also slim you down visually. I don't think any bride should get married in flats, but whatever you decide, bring that specific shoe with you!
Have you gone wedding dress shopping yet? Are you looking forward to the experience? Share your thoughts on this topic below.