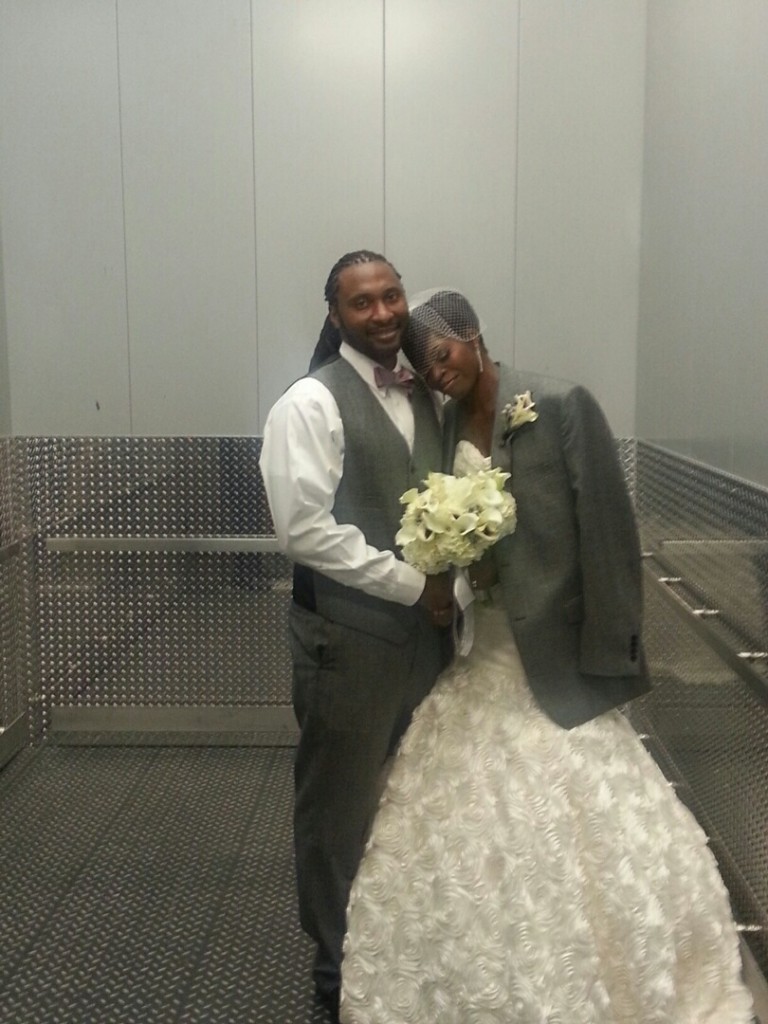 I have interviewed over 100 brides and dozens of wedding planners and other bridal industry experts in my career. I've been tapped by media outlets like ESSENCE, The Huffington Post and UPTOWN for my bridal expertise. I have enough bridal magazines and wedding books in my home to drive Mr. TK nuts. (I'm working on the pack rat tendencies, babe!) Still, none of this made me totally prepared for the emotional roller coaster I rode for my own wedding. Here are the top five things I learned while taking that ride and how you can attempt to buckle up for them, too:
1 – Something will go wrong. Although many of my Tie the Knot Tuesday couples warned me of this, I couldn't predict what those "somethings" would be for my own big day. The carefully written speech I prepared for my father's tribute during the reception? I got nervous and forgot a chunk of it. People still gave me compliments. Mr. TK somehow couldn't find his shirt, tie or shoes (!!!) the morning of the wedding. Thankfully his groomsmen were selfless and made last minute mall trips to ensure my baby was dapper — and even early — for our first look.
Takeaway: Don't sweat the small stuff. (This mantra is probably going to be helpful in marriage, too.)
2 – The day flies by. This seems trite to include but it is so true. October 19, 2013 was the fastest day of my life. Period. Everyone and their grandmother gave Mr. TK and me a head's up about this but we were still amazed at how quickly time passed. We spent months planning for the blissful day so it was hard to accept it had to end.
Takeaway: Don't take a second of this day for granted. But really, isn't that how we (married or not) should aim to live our lives everyday?
3 – At least something will go "wrong" that you will ultimately view as a "right". For me, this was the rain preventing us from having our rooftop ceremony. Had it not rained, I wouldn't have the unforgettable memory of my deceased father on that special day. I've heard couples say that their flower girl or ring bearer did everything except what they practiced yet added a fun element to their ceremony in the process.
Takeaway: Roll with the punches. They just might be more in your favor than you think.
4 – Someone will likely piss you off. I was sadly disappointed by some folks in the hours leading up to my wedding. I'm still a little hurt by the actions from a select few but ish happens. I didn't allow it to spill into my wedding fun. Whether it is your florist arriving late, your ceremony soloist forgetting her music, your bridesmaids throwing you shade or the limo driver getting lost – take a deep breath, meditate, pray, chant – and then keep it moving.
Takeaway: You've invested a lot of time, effort and money into this day. Turn that frown upside down.
5 – You will probably piss someone off, too. I'm sure I snapped at a couple of people during my wedding weekend. Hopefully no one will say I crossed into that dreaded bridezilla territory. Emotions are high, folks are moving a mile a minute, and everyone from your family to your vendors are calling, texting or emailing you. You're excited, nervous, anxious and (hopefully) insanely happy.
Takeaway: Check yourself regularly, hope that your loved ones don't take it personally and steal a kiss from your honey if you start to feel too stressed.
 Any recent (or not so recent) brides want to add to this list? Leave a comment!