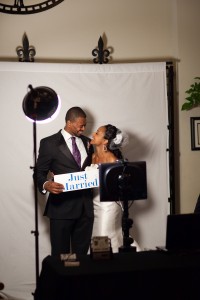 Last week I attended a fashion event in NYC's trendy Tribeca. The highlight of my attending wasn't yummy cocktails or even a gift bag filled with swag. All the guests of this event were able to create their very own photo flipbook! My colleague and I had so much fun posing with props and dancing silly in front of a video camera for our personal flipbooks. Then I had an a-ha moment and thought to myself…This would be awesome for a wedding reception!

The name of the company responsible for this fun experience is appropriately named Memorable Elements. As I mentioned here, I think anything a couple can do — within budget — to personalize their wedding reception is a plus. Memorable Elements is a unique experience that will leave your guests buzzing for weeks. They only require a 10×10 space and an electrical outlet to get the job done. Props can range from plastic musical instruments (I'm playing a trumpet in my flipbook!) to hulahoops. Exact prices vary but I thought it was great that Memorable Elements charges by the hour and not by the number of books they create. (They can produce up to 40 books in an hour, by the way.)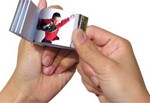 Obviously this won't be the right fit for every couple's reception but for those who might be looking for a photobooth alternative it is perfect! Plus guests can leave the wedding with a favor they'll actually appreciate since folks are allowed to design their own flipbook covers.
Contact Memorable Moments directly for specific price quotes and more info. As usual, don't forget to mention BlackBridalBliss.com sent ya!
Would you consider hiring Memorable Elements or a company like them for your wedding or special event? Why or why not?
[Images courtesy of ChocolateBrides.com]