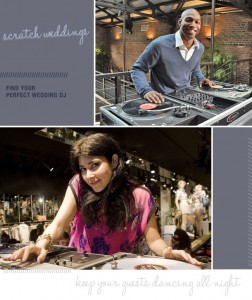 Finding the right person to spin the right tunes on your wedding day is no easy feat. While some of you might go the live band route, most of you will opt for a DJ to do the deed. Generally they are less expensive and more accessible than bands. But as anyone who has ever attended a function where the DJ was less than average will agree, making a final decision on a wedding reception DJ can be stressful — until now.
Scratch Weddings, a company cofounded by the late Jam Master Jay of Run DMC fame, has launched a national service connecting couples with reception-savvy DJs. The music masters are divided by region on the site and you can even watch video snippets of the DJs you're interested in booking. For your protection, all Scratch Weddings DJs are (supposed to be) insured. Many of their DJs have worked with the likes of The Black Eyed Peas and Lady Gaga but they also claim to have selections that will keep your Great Aunts and Uncles happy, too.
Nice! As always, if you contact Scratch Weddings be sure to mention the folks over at BlackBridalBliss.com sent ya.
Still looking for practical tips to help out when booking your wedding DJ? Look no further than this post!