"Man can plan but God can hinder."
Growing up, I listened to my North Carolina-born mom and grandmother recite the above sentence countless times and it typically left me perplexed. Now as a married, 30-something year-old woman I get it. In fact, my new marriage and now postponed honeymoon are prime examples of this saying.
Before I get into the who, what and why of my honeymoon being postponed, let me explain a few things: I work in an industry where frontin' is embraced. I thought long and hard about whether or not I wanted to post this because I was nervous about oversharing and exposing too much of me and the hubby's business to the world wide web. But upon careful consideration, I concluded (after running it by him) that I should because if I experienced it, someone else probably has, too. So here goes…
After getting hitched last fall, Mr. TK and I planned to honeymoon in Southern Italy. I specifically wanted to visit the Amalfi Coast and Capri. I've been to Rome and Florence but not the southern region of the country and neither has Mr. TK so we were pumped to experience someplace new for both of us. I even had outfits picked out! Our minimoon helped to tie us over and we did manage to get away for my birthday a few months ago but in the back of my mind, I was dreaming about our stay in Italy. However we've had to make the grown-up decision that the money used toward a fancy honeymoon can be better used toward more important family goals.
After one says I Do, the ebb and flow of life doesn't stop. So, when the transmission in the car goes, the longtime freelance assignment that provided a steady source of income ends and the acceptance that it is going to take a hefty dose of compromise on both of your parts to find a comfortable place for you to live (especially in NYC), things like a jaunt to Capri don't seem important. Mr. TK and I will continue to travel — that bug hasn't gone anywhere. But as a married couple we now have to do what's best for our household. Those decisions aren't always easy to make — we could have broken out a credit card or dipped into savings and still made Capri happen this year — but the truth is that wouldn't have been smart. And what one can pay for and what one can actually afford are two different things. The bottom line: We cannot afford a trip to Capri this year. Period.
This experience has forced me to grow. I literally was pouting when Mr. TK said that under our current circumstances, Capri wasn't going to be a reality for 2014. And he's been less than thrilled with some suggestions I've made for us to improve our quality of life. We've both had to sacrifice in unprecedented ways since getting married and we know there are more sacrifices to come. Yet, I didn't stay at that pity party long. I thought back to my mother's sage advice about focusing more on what you do have than what you don't. Mr. TK and I were blessed beyond measure not to incur any debt getting married. Our support system is strong. Sure, if we had reallocated some wedding funds we probably could have taken that Italian honeymoon but I refuse to live a life filled with coulda, shoulda, wouldas. 5, 7, or even 10 years from now when we do take that trip to Capri it will be much sweeter.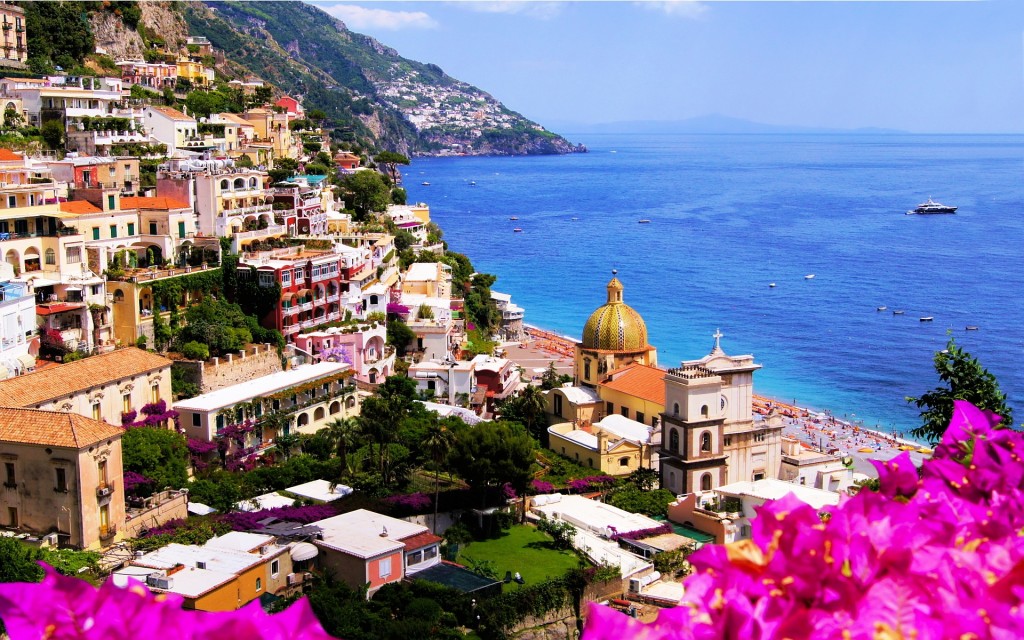 I'm thankful Mr. TK and I lived and had the opportunity to travel the world prior to getting hitched so we aren't resentful to our marriage when situations like this arise. Our passports can get some rest while we build a foundation for our family. Right now our family is just the two of us but we have ambitious goals nonetheless. In the meantime, building up our savings and figuring out exactly where we want to plant roots is our priority — not hanging out on the Amalfi Coast. Prior to getting married, I never felt the need to discuss my travel plans with anyone so navigating this is new to me. But ya know what? I wouldn't want to figure it out with anyone else.
P.S. – Writers, editors and now bloggers receive lots of awesome perks as a by-product of the gig. I've had the opportunity to visit some fantastic locales as a result of my career and more cool trips are in the works. But I at least try to keep my job perks and what I can actually afford in two separate buckets. Going to Italy on a press trip (which could very well happen in the future) and going on a true vacay with my husband are two different things and I refuse to fake the funk like they aren't hence this post.