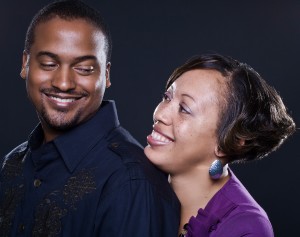 Today's post is a treat. I got the dynamic duo (Ronnie and Lamar Tyler) behind one of my favorite sites, BlackandMarriedwithKids.com to share some of their secrets for Marriage Matters with Triple B. Read on to find out more about the importance of dating after saying "I Do", maintaining a blended family and why we should consider listening to Public Enemy for marriage guidance.


Wedding Date: September 2005
Ages of children: 2, 3, 8, 17
Ronnie, 37 Says:
Maintaining a blended family hasn't always been easy and has definitely been a process. I think most importantly we've continued to communicate with each other and to remain united in front of the kids. A family is only as strong as the parents who run it.
Continuing to date is definitely a key to longevity in marriage. You have to keep dating your spouse. With the stress and struggles of life you need that time alone with each other or you can eventually start growing apart. Dates don't always have to involve money either: a walk in the park, trip to the museum or a picnic in the living room are all dates you can have on the cheap.
Marriage is as practical now as it was 50 years ago. I think if you look around at our communities it's not hard to see the effects that the breakdown of two parent households have had. Like Public Enemy said, "Don't Believe The Hype" when people say marriage is no longer relevant.
Lamar, 33 Says:

As a man, I didn't shy away from marriage because I knew better than the stereotypes you hear in the locker room. A marriage isn't a life sentence or a ball and chain, a healthy marriage will catapult you to another level of success and achievement. When you have two people working towards one common goal what can stop them?
Married life is different from dating because there is no out. When conflict arises  you have to work through it or it will A) reappear later if ignored or B) start to tear your relationship apart. People get dating and marriage confused. You have single people in bad relationships who won't leave and married people leaving too easily when it should be the other way around. Also marriage is work, it's a continual process of building skills and tools based around communication that you develop over the years.
Ronnie and I being business partners has been exciting and I believe that it's helped our personal relationship. We're best friends so spending time together is natural and not a forced situation. In addition, since the work we're doing is based around relationships the conversations that we're involved in adds so much to our own marriage.
Find out where you can get more love lessons from Ronnie and Tyler by clicking here.