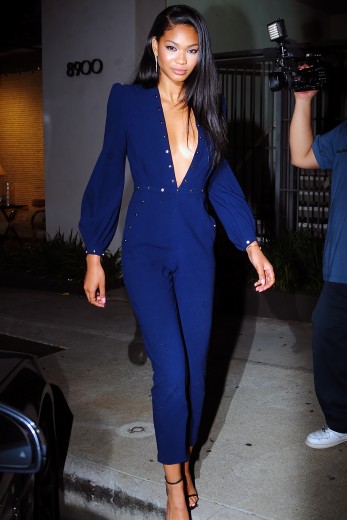 Mars thinks – I'm learning that I like jumpsuits. This outfit definitely gets my approval for bachelorette festivities. The ensemble is sexy and elegant. Chanel looks amazing. The sleeve design throws me off a bit, but the look isn't ruined. Fitted sleeves could potentially improve these chic threads. I think this is a look that flatters the itty bitty committee more so than the Dolly Parton type.
Venus thinks –Like Mars, I too have learned to appreciate a good jumpsuit. Not only are they sexy , but can be extremely comfortable. Chanel Iman's execution I believe was perfect although I would rather a closed  toe stiletto, but I 'll take the sandal. This is indeed the perfect look for a bachelorette weekend! What do you guys think?
Check out what Mars and Venus had to say last week here.