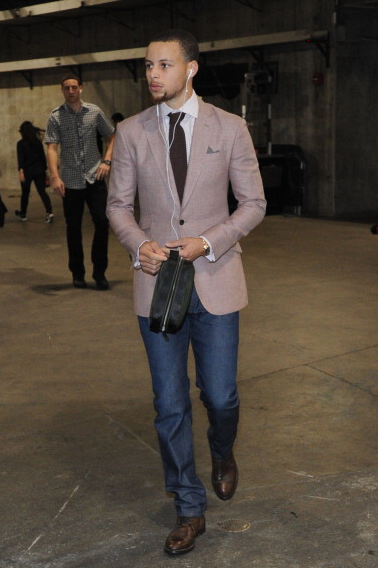 Mars thinks – First, I would like to congratulate Mr. Curry and the Golden State Warriors for winning the Western Conference Finals last night and securing a trip to the NBA Finals. 
I'm looking forward to watching the post-game fashion shows interviews with Stephen Curry, LeBron James, & JR Smith. With that said, I like this look. This outfit works for the dude that likes to stay in the middle and not capture too much attention. Those that desire a style that isn't too dressy or too casual may want to check out Stephen's inspired clothes at Express.
Venus thinks – Steph Curry is pretty dapper for a young man in his late twenties. The tan blazer and dark brown shoes are the perfect combination for the dark denim jeans. I also hadn't realized how handsome he was out of his uniform! This is a great look for Curry as well as a celebrating bachelor or rehearsal dinner.