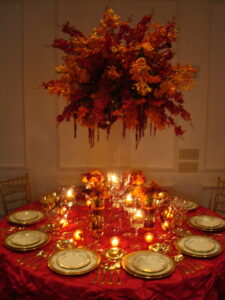 This post is pretty special. It's a response to Triple B's very first reader inquiry! Today's question is all about reception centerpieces so I tracked down the lovely TaraSimone of Barbara's Flowers in Harlem to help my bride-to-be out. TaraSimone developed a budding curiosity for flowers at the age of seven while observing her dad run the family floral biz. Now, she has clients ranging from ConEdison and Merrill Lynch to Hillary Clinton and Alicia Keys. Here we go:

Do you have any ideas on ways to make my tables pretty, new and exciting–all while on a budget? I've investigated several florists and frankly don't want to pay $100+ for a centerpiece that folks can't even take home. I thought about doing something with limes (because we are in Key West), but I don't want it to look cheesy; nor do I want to give the impression that I didn't want to spend the money.  Help!
-Bianca, Key West, FL
Tara advises, "If Bianca would like to consider creating a design using fresh limes – I say go for it!" Here's the rest of her awesome advice: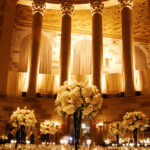 · SCALE: In order to give a "wow" factor in an event space, you must remember to increase the scale from what you may have on a single dining table. A good point of reference is that anything above 30″ off of the table will be seen when your guests enter the room. Anything below 30″ will be appreciated as your guests sit down to their tables.
· CLUSTERS OR GROUPINGS: As designers, we often group like objects into clusters of odd numbers. Therefore, if you're creating a table design featuring limes, consider having 3 descending sizes of glass vessels filled with limes. You'll achieve necessary scale as well as a visual anchor to the space.
· USE CONTRAST COLORS: If you're using limes as your centerpiece, don't be afraid to add lemon or even fuchsia as an accent on the tables. This will allow the table to "pop" in your photography. The key is to use your contrasting color minimally. You may consider an individually wrapped favor in lemon or fuchsia  or you can use your menu card to offer a contrasting element.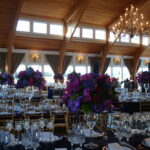 · SUBMERGED FLOWERS AND FLOATING CANDLES: Using submerged orchids or calla lilies can offer a modern, minimal and high impact design for budget conscious brides. With these designs, less is more. You want to select a single orchid stem (preferably a cymbidium orchid which holds well under water) and place it either straight or at an angle in your vessel. Adding votive or floating candles to this design will further intensify it's appeal.
(View more of Tara's work on her Facebook page.)
If you have a question about a DJ, cake, honeymoon spot, bridesmaid dress, caterer, or anything else related to your upcoming wedding, feel free to drop me a line at: [email protected]. I'll answer your question in an upcoming post, too!
[All images courtesy of Barbara's Flowers.]