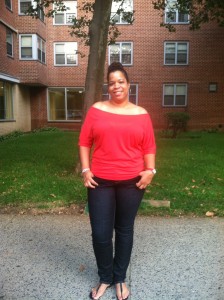 Losing weight for my wedding day and sharing the journey with you was the premise of starting this blog on Triple B. While that may have been the reason for it's origin, it has morphed into so much more. I have found support, advice and cathartic release here. I have shared, I have cried. I have enjoyed every minute of it. This blog has become so much more than a weight loss chronicle. But with my wedding less than a month away, this week I am returning to the beginning.
Since the start of this journey I am proud to report I have lost just about fifty pounds, and dropped two dress sizes. I have completed my dress fittings, and if I do say so myself I look pretty damn good in my dress. The majority of the alterations are done. The seamstress took the dress in perfectly, it fits like a glove. With that said I find myself in a very foreign predicament. I have to maintain my current size. Being a plus size girl I have NEVER been in this position. I have always been in a place of trying to lose weight and dreading any gain. Gaining is still a NO NO, but I have learned maintaining comes with its own unique issues. Issues I am struggling with almost as much as I have with losing in the past. Gaining weight has always come easy. Losing weight has been a struggle, but maintaining is a monster of its own.
I have wedding festivities coming up, the shower and the rehearsal dinner. Not to mention Shawn's family reunion in North Carolina Labor Day weekend; so eating temptations will be plentiful. I set out to achieve a certain look in my wedding dress, a look I have achieved. Wish me luck Triple B that I don't fall prey to the diet pitfalls ahead of me.