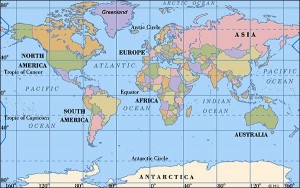 Last week Sean and I updated you on our wedding plans. Hours after our video posted on BBB, Sean headed to the UK for work. By Saturday, I sent him this Facebook message, "Mayday! Mayday! I'm surrounded by wires and trying to figure out which cable wire goes into the TV.  Missing you very much right now. When you get a chance can you send me an email with instructions? Thx!"
To be clear, I'm not some damsel in distress. I'm used to Sean's traveling but I hate having to deal with household chores he'd usually handle, such as changing high ceiling light bulbs or moving anything really heavy. Thanks to Skype I was able to solve my dilemma, which got me thinking about engaged couples that have to plan their wedding long distance or are planning a destination wedding. If your wedding ceremony is far from home or if you and your fiancé can't plan the wedding together, things can get sticky. Here's a few tips that may help:
Choose Your Destination
Will it be a tranquil beach or a picturesque mountaintop? Whatever your preference, wedding experts suggest determining a tentative head count before making a down payment on a wedding site or reception venue. You might assume that a dozen people will join you, only to discover that loved ones on both sides are yearning for time away from home. To keep from filling that tiny mountaintop chapel to capacity, have an alternate venue in mind, or limit your guest list to a select few.  Still undecided? Many couples hold 2 small receptions – one in their wedding city and one in their hometown as a way to save their guests from having to travel. On the bright side, it could also save you from having to transport all your gifts!
You'll also need to think about seasonal weather conditions. After all, no one wants to have a their dream Caribbean wedding in the middle of hurricane season.
Set Date & Plan Ahead
This goes without saying, however if your fiancé/fiancée is in the military or is otherwise indisposed, it will give him a chance to prepare. Experts suggest including airport, hotel and other pertinent information with your save-the-dates.
Hire A Wedding Consultant
A qualified, reputable destination wedding consultant can take care of the small but significant details.  Plus they know the local legalities for ceremony and reception planning, such as the process for obtaining event permits. They also tend to have existing contacts with well-respected vendors and can give a bride an idea of what to expect as the big day draws near.
Research Your Vendors
Get in touch with local hotels and banquet halls as they can make referrals for reputable wedding vendors. Trustworthy vendors will happily supply a legitimate, diverse list of satisfied clients. Check out the local wedding venues that are recommended, as well as, the hotels and other temporary lodging for you and your important guests. Make sure all your questions have been satisfactorily answered before you sign any contracts.
Legal Eagle
Every country has requirements for legal marriage, including witnesses, marriage license applications, blood tests, proof of immunization and residency needs. Know the law and be 100% sure that you and your fiancé have all of the necessary documentation.  If in doubt, ask your local wedding vendors or your wedding consultant. And don't forget to apply for or renew your passport well in advance.
Shipping Out
Ship all your wedding items a week before the wedding. Arrive at the venue at least three days before the wedding to tie up any loose ends.
Remember: Things may go wrong but you can only control what you can, so kick back, relax and enjoy the celebration!
Are you planning a destination wedding?  Or are you planning your wedding long distance?  Share your tips!