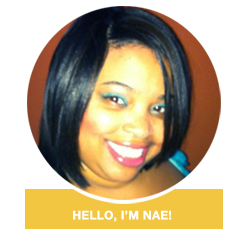 I'm very pleased to announce Triple B has a brand new Road to Mrs. blogger! Meet Nae, a DMV (DC, Maryland, Virginia) based bride-to-be who personally reached out to me because she wanted to share with you all her musings on wedding planning. In addition to posting here, Nae maintains her own lifestyle blog, I Choose the Sun. Nae is scheduled to get hitched this June and will be blogging here every Thursday until then. Check out her story and don't forget to leave her some love in the comments, y'all!
Hello bridal beauties! On June 1, 2013 I will marry my fiancé, Mr. DrummerBoy near our hometown of Washington, DC. After 10 years of dating, we got engaged shortly after the ball dropped on New Year's Day 2012.
From the day we met, there has been nothing conventional about our relationship. The close friend of my younger sister at a time when I found her and her friends super annoying, I initially had no interest in Mr. DrummerBoy. Things changed the day after his best friend was killed in a motorcycle accident. I saw a different side of him and we began secretly dating. After a few months, we decided to finally tell my sister. Over a decade later and we often joke that we are complete opposites with nothing in common except for our souls – that's good enough for us.
After reveling in the excitement of being engaged for months, Mr. DrummerBoy and I began planning for our big day last summer. We knew from the start that the most important aspect of our big day was that it represent us. With only 3 months to go and most of the major decisions made i.e. venue, bridal party, caterer and dress(!), we are now focused on the details that will make our special day just as unique as we are. I invite you to join me as I share our non-tradtional journey down the aisle.
Wedding planning can be quite overwhelming but through it all, this picture keeps me focused on what's most important!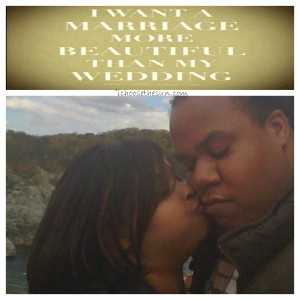 How did/do you keep it all together while wedding planning? Any advice for the next three months?
P.S. Although I love being a social media butterfly, my beloved prefers his privacy hence the moniker Mr. DrummerBoy.