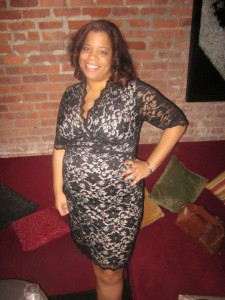 I have been overwhelmed by the kindness of people ever since Shawn and I have become engaged.  It's funny, as a cynical New Yorker I was gearing up to deflect the shade I was sure would come with making such an announcement.  Surprisingly, for the most part my experience has been just the opposite.  Stating with the support and encouragement I have gotten from Triple B.  When I first began blogging on Triple B I was nervous about opening up and putting myself out there.  But what a great choice it was to do it.  I am so grateful to the Triple B family for their acceptance.
Also the generosity I have been shown surrounding my wedding has left me speechless.  A girlfriend of mine, who got married last year nearly, brought me to tears.  While preparing for her own nuptials she bought two dresses.  She called me up and offered to give the one she did not wear to me.  Her original plan was to sell the dress on EBay.  However, after hearing I was getting married she said "I would rather give it to you, than to sell it to a stranger." How sweet is that?  I was awestruck.  Did I mention the dress is absolutely BEAUTIFUL? It's beaded and lace and gorgeous.  The only drawback is my girlfriend is quite a bit smaller than I am.  Ergo the dress does not exactly fit.  It was actually comical to watch me try it on.  Lord knows Tylesha (my daughter) had a good laugh.  I actually needed her help to get out of it.  But I am not discouraged; I have the dress hanging in my closet as my inspiration.  It is my constant visual cue that my wedding is getting close and I have work to do.
So, with all the other wedding planning coming together rather smoothly, I am focused on getting myself together.  Come September 15th I will be ready for my march down the aisle.