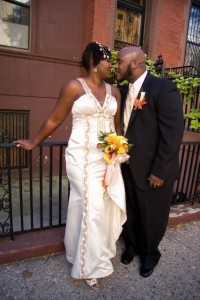 Bride: Adeatrice "Dea" Mapp, 28
Groom: Dennis Smith, 38
Occupations: Mapp, executive program associate; Smith, case manager
Homebase: New York
Wedding Date: October 9, 2010
Wedding Location: Ceremony – Abyssinian Baptist Church; Reception – Londel's Restaurant; both in Harlem, New York

Office Romance "Dennis was a consultant at the company I was working for. He was representing an organization that helped young fathers," explains Dea when asked how she met her husband. Although Dea tried hard to avoid dating in the workplace; she eventually gave in. "He was a real gentleman and we clicked immediately. It was the first time I met someone I didn't have to dumb down for. I had no choice but to let my guard down," admits Dea. Dennis was smitten from the beginning as well. "Dea has a beautiful smile and is mature beyond her years. I wanted to get to know her more," he says.
In Sickness and in Health Before long, the pair were dating exclusively. That August, Dea prepared to take her younger sister back to college in Virginia. Dennis insisted that he accompany Dea on the road trip — which further impressed her. On their way back to New York, Dea became seriously ill. "He was right by my side and I never had to ask him," Dea recalls. For Dennis the support was effortless. According to him, he was just doing what felt natural.
[cincopa AYMADa6_tySL]
[Images provided by Abigail Montes.]
Nobody's Suppose to be Here Being a divorced mother of three, Dea had become a bit of a cynic about love and didn't immediately open up to her sweetie's generosity. "In past relationships, I was always the giver. I had to get used to someone treating me the way I deserved," she admits. Dennis however was convinced that he had found his soulmate by their second date. "There was something extra special about Dea," he explains. He adds, "I'm on another level with her. Our relationship is unlike anything I have ever experienced. We support each other." Dennis was also impressed with the type of mother Dea was to her children and shares that it was part of the reason he decided to propose.
Harlem State of Mind On a beautiful October day, Dea and Dennis jumped the broom (literally) in their beloved neighborhood of Harlem, New York. Both the ceremony and the intimate reception took place in the historic town. "Our guests walked through Striver's Row from the ceremony to the reception and were able to take in all the Uptown scenery," Dea shares. The couple's fifty guests had a great time as did Dea and Dennis. "Since the day we started dating it has just been a progression. I'm looking forward to us continuing to grow together," says Dennis.
Dea's Money-Saving Tips for Future Brides
Keep it Local By hosting both their ceremony and reception within blocks of each other, the Smiths completely cut the transportation line of their wedding budget. Not only did it save them money, walking from the church to the restaurant gave guests an added cultural experience on their wedding day.
Say No to the Status Quo "Think about what is absolutely necessary," warns Dea. "We didn't have programs or favors. At the end of the day, no one said, 'Hey, I didn't get a favor!'" she explains. The couple also opted not to have a traditional wedding cake. "Londel's serves an array of cakes and pies that our guests were able to select as their dessert during our reception," says Dea proudly.
Support Worthy Black-Owned Businesses While it might not immediately seem like a cost-cutting tip, patronizing a family owned and/or small biz is always invaluable. Dea's wedding dress, headpiece and wedding reception were all provided by Black-owned businesses.
Take a look at past Tie the Knot Tuesday features here.
***Did you or someone you know recently tie the knot? Complete this brief form and the wedding just might be featured in an upcoming Black Bridal Bliss feature!***