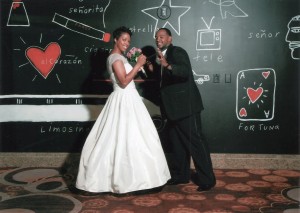 Bride: Joi Burrell, 31
Groom: John Deberry, 30
Occupations: Burrell: registered nurse; Deberry: graduate student and Janay Herbal Products Vice President
Homebase: North Carolina
Wedding Date: May 30, 2011
Wedding Location: Ceremony & Reception: Mandalay Bay Resort & Casino, Las Vegas, Nevada
What cha drinkin'?: Native North Carolinians Joi  and John met at a local lounge in their homestate one crisp fall evening. "He had the countriest twang I've ever heard in my life! I said, 'Good Lord, where is this man from talking like this?'" recalls Joi with a laugh. "I ordered Hennessy with cranberry juice," she adds. She later learned that Hennessy is John's favorite spirit. "You don't meet too many women who like to drink Henny," shares John. He continues, "I thought, 'Oh, I can hang out with her.'" What John also observed about Joi was her physical appearance. "I said to myself, 'She's bad! She wasn't giving me the time of day at first though.'" Sharing mutual friends, the pair began to converse and before long discovered they shared more in common than their appreciation for brown liquor….And their love affair began.

Distance Makes the Heart…When asked what made her fall for John, Joi responds, "He's such a sweet guy. From the beginning there was something different about him." Shortly after they started dating John accepted a job offer  in Washington, D.C. — leaving his girlfriend Joi behind in North Carolina. Joi was less than thrilled about this move and for good reason. "I had tried the long-distance relationship thing before and it never worked," Joi admits. But thankfully she gave it another shot with John. "I think being apart made us stronger and a lot more appreciative of each other," Joi confides. John agrees, "Every opportunity Joi had to come to D.C. she was there. I was like, 'Wow. This is something real." Joi was smitten. "I watched how he interacted with his family — that was important to me. Plus, he's business savvy and challenges me. John motivates me to want to do better," shares Joi. John, a graduate student, has similar feelings toward Joi about her encouragement of his studies. "It gets on my nerves sometimes but she'll tell me, 'You need to stop doing this and get on that paper."
[cincopa AEPAx3q3hQYE]
Ready or Not: "I don't think there are two other people in the world that enjoy each other as much as we do," John declares. He says further, "We have so much fun together. I thought, I'm gonna have to go ahead and make a move on this girl. I just knew." While John might have known that he was ready to ask his beloved for her hand in marriage, Joi was not so sure. "He told me a month before he actually proposed that he was going to marry me but I thought he was just running his mouth," she remembers laughing. She adds, "There was no bended knee. No long drawn out proposal. He simply asked me if I was ready to be husband and wife." And Joi happily answered, "Yes." So after approximately one year of dating, the couple decided to get hitched!
Vegas, Baby! The duo originally wanted to tie the knot in Turks and Caicos but decided against it due to finances. "We just didn't see it as right to ask people to spend so much money on us," explains John. Joi shares, "We thought about eloping." They ultimately decided to do the deed in Las Vegas and held a larger post-wedding celebration in their hometown of Durham, North Carolina two months later for those loved ones who couldn't make it to the first intimate affair. The couple ran with the theme, "Lucky in Love" for their big day and both have blissful memories about the occasion. "Joi was beautiful walking down the aisle," says John fondly. He adds, "We were on the 16th floor — it was amazing!" Joi agrees and says, "It was untraditional but we decided to just do our thing." The newlyweds extended their stay in Vegas for their honeymoon and hotel hopped after guests returned home. Joi reminisces, "We had so much fun!"
Joi's Money Saving Tips for Future Brides
Get Web-Friendly: A savvy Joi purchased her bridal headpiece from eBay for a mere eighteen bucks! Don't be afraid to purchase a gently worn veil or headpiece for your big day to save loads of cash, too.
Say Yes to the Dress…Twice! Joi might be a fool in love but she's certainly no fool when it comes to finances. The frugal bride wore the same convertible gown to her Las Vegas nuptials as she did for her North Carolina post-wedding celebration. Convertible dresses help ensure the wearer gets the most bang for her bridal buck.
What About Your Friends? Positive relationships with loved ones now can reap financial rewards later. Joi's friends (and family) looked out for their girl on her big day, big time. "My friend Kaia purchased a garter I wanted after seeing it featured here on Triple B and another friend bought my shoes. My mom bought my dress. People who believed in us just gave and gave. We didn't have to ask for any of it."
Take a look at past Tie the Knot Tuesday features here.
***Did you or someone you know recently tie the knot? Complete this brief form and the wedding just might be featured in an upcoming Black Bridal Bliss feature!***