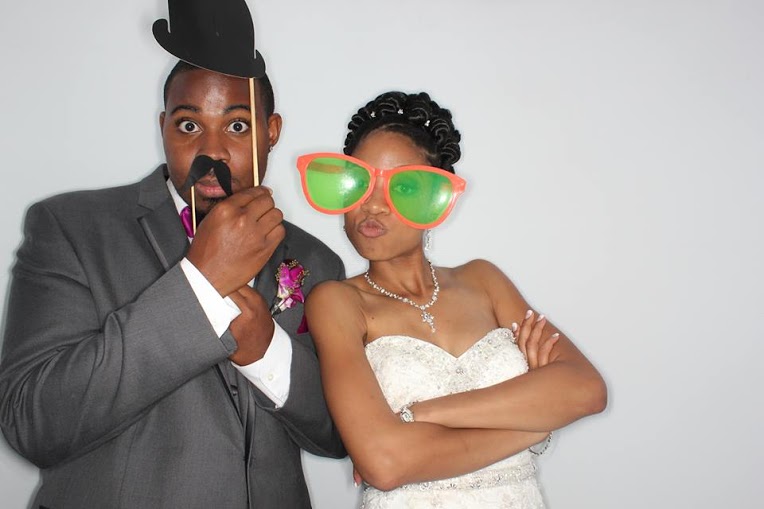 Couple: Leah and Brandon
Wedding Date: August 22, 2014
Wedding + Reception Location: The Church of God of East New York, Brooklyn, NY (ceremony) and The Inn at New Hyde Park, Long Island, NY (reception)
Wedding Theme: Two Hearts, One Love

Childhood Sweethearts "We met when we were 14 years-old! We were both in our church's youth group," shares Leah about her new hubby. When asked how he met his now wife, Brandon reveals, "To be honest I didn't notice Leah at first." He continues, "But when we finally engaged in conversation; I began to see how sweet and innocent she was. Going through middle school and high school, I was used to seeing most of the girls acting too grown for their age, but Leah was the opposite." He adds, "Leah's parents definitely had a big hand to play in Leah's character and integrity."

Just Gets Better With Time "Our courtship was long!" Leah recalls with a laugh. She adds, "We dated for 11 years and were engaged for 11 months. It was a long journey but it was all worth it. Time really allows you to grow and mature as individuals and as a couple." Brandon agrees saying, "Leah aged in all aspects of life like a fine wine." "One of the things I enjoyed about dating Leah was making Leah laugh. When I can make her laugh uncontrollably, I know that my job is done. The way she closes her eyes and shows her teeth is so cute."
[cincopa AcFAaRMMPV-_]
(All images excluding honeymoon pic by MPW Media Group.)

Surprise of a Lifetime "Brandon proposed to me at work. He surprised me at lunch; it was very exciting. My initial response was questioning if he was serious and if this was really happening. That was followed by asking if he asked my parents first and then wishing I had my nails done. The entire experience was filmed by his dad who helped set it up. It all happened so fast but I will never forget it," Leah shares. "For many years I have enjoyed surprising Leah. Whether it be showing up somewhere when I told her I couldn't make it, or surprising her in the city so I can meet her just in time to take her out on her lunch break," Brandon confesses.

The Point of It All  "We were married at our home church, The Church of God of East New York. We grew up in that church and would not have had it anywhere else. We selected The Inn at New Hyde Park because the scenery is lovely, the food is great and the staff were very helpful and professional. Also they only hosted one event at a time so we knew that all detail and attention would be on us for the day," Leah explains. Brandon confides, "My favorite part of our wedding ceremony is when we had a first prayer instead of a first look. We wanted our first look to be when she walked down the aisle, but a spiritual connection was most important. We wanted to make sure that God was in the beginning of it all."

Leah's Budget Bridal Tips for Future Brides
Faux Fun "Most of our flowers weren't real and our guests couldn't even tell. Fresh flowers can take a chunk out of your wedding budget so this definitely saved us a lot of money and we were still able to achieve the beautiful look we desired."

Weekday Benefits "There is no rule that says you have to get married on a Saturday or a Sunday. We were married on a Friday morning and for us it was less expensive."

The Wedding is Just One Day "Don't try to have a platinum wedding if you know you can't afford it. Just focus on making your day memorable for you and your partner. Know that you can't please everyone. Realize in the end the most important thing is your marriage journey and forming a strong union."
Wedding Vendors:
Hair: Blessed: Unique Styles by Nellie Inc.
Makeup: Charlene Armstrong
Florist: Flowers by Brian for bride's bouquet, grooms boutonniere and church stage arrangements. Bride's mother made all corsages and bouquets for bridal party, reception tables and floral designs for the church aisle.
Photo/Video: MPW Media Group
Shoe Designer:
Nina


Groom's tuxedo:
 Vera Wang
Bridesmaid's dresses:
Dessy
View the couple's engagement photos here.
Take a look at past Tie the Knot Tuesday features here.
***Did you or someone you know recently tie the knot? Complete this brief form and the wedding just might be featured in an upcoming Black Bridal Bliss feature!***