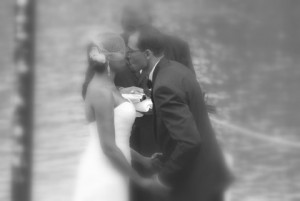 Bride: Tewanna Sanders, 34
Groom: Marshall Brazzley, 35
Occupations: Tewanna, non-profit professional; Marshall, nurse
Homebase: Charlotte, North Carolina
Wedding Date: June 12, 2010
Wedding Location: Hilton University Place, Charlotte, North Carolina

Timing is Everything: When newlyweds Tewanna and Marshall met at a birthday party, they were both in relationships with other people. "I thought Marshall was attractive but that's where it ended because I was dating someone and so was he," recalls Tewanna. While there were no immediate sparks from Tewanna, Marshall was definitely smitten with her. "I never stopped thinking about her," he admits. So when he became a single man again, he wasted no time asking others in their circle for her number. As fate would have it, Tewanna was by this time single as well and the sparks commenced to flying.
Distance Makes the Heart Grow Fonder: A native New Yorker, Tewanna had relocated to Charlotte when she and Marshall began seeing each other. Both agree that the distance was at times frustrating but the determined duo didn't allow it to stifle their relationship. "We had to be creative; we courted each other on another level," she says. Adding, "We made music playlists for each other and spoke on the phone every night – sometimes falling asleep together on the line." "Marshall knew what he wanted in a relationship which was refreshing," she says. Marshall reveals, "When you're around Tewanna for just a few minutes you realize that she's someone special. I knew from our first date that I wanted to marry her."
[cincopa 10668321]
Photography (excluding honeymoon pic) provided by SL Media Productions
Father Knows Best: After dating for nearly two years, Marshall decided to ask Tewanna for her hand in marriage. He went the traditional route and sought her father's approval first. This proved to be harder than he thought. "I bought her dad a set of embroidered handkerchiefs for the occasion. I asked him for his blessing in person after traveling from NYC [Tewanna's parents live in South Carolina] but he didn't give me an answer right away. Instead, he told me to call him the next day," remembers Marshall. The following day, Mr. Sanders informed a nervous Marshall that his answer was yes…but that didn't mean that Tewanna would say yes. Of course she did and on August 10, 2009 the couple was officially engaged and began planning their nuptials.
Meet Me by the Water: The couple chose the relaxing Hilton in Charlotte's University Center for their wedding ceremony and reception. The venue is nestled among quaint shops, cafes and a calming swan lake. In addition to the beautiful surroundings, they had good reason for picking this venue as it was the same location where they enjoyed their first date and got engaged. Guests watched the couple become husband and wife near the lake and moved indoors for the reception. In between dinner and dancing, they were touched by a video montage created by the couple, including pictures of the groom's parents and a younger brother who are deceased. There were many tears shed during those sentimental moments but a grand time was had by all!
Tewanna's Budget Bridal Tips for Future Brides:
DIY Diva: Through patience and a little creativity, Tewanna created her own programs and cd favors. But she strongly warns, "Try samples first so you're not surprised on your wedding day." The savvy bride turned to the Web to purchase select items in bulk which was a fraction of the retail cost.
Consider a Coordinator for the Day: "It was the fastest day of my life!" says Marshall of his wedding day. Wife Tewanna quickly agrees. They advise other couples who are heading to the altar to invest in a same-day wedding coordinator even if they cannot afford a full-fledged wedding planner. This professional should ensure that the day runs smoothly and will allow you to enjoy your wedding and reception stress-free.
Get Creative with Surroundings: Take a cue from Tewanna and Marshall when choosing your wedding day venue. The picturesque landscape of the hotel where they wed offered an awe-inspiring backdrop for their video and images. It also held sentimental value to the couple's relationship. Look beyond costly high-profile, country clubs and such for your nuptials. Chances are you have your own affordable, under-the-radar, mini-oasis in your home city as well.
Take a look at past Tie the Knot Tuesday features here.
***Did you or someone you know recently tie the knot? Complete this brief form and the wedding just might be featured in an upcoming Black Bridal Bliss feature!***