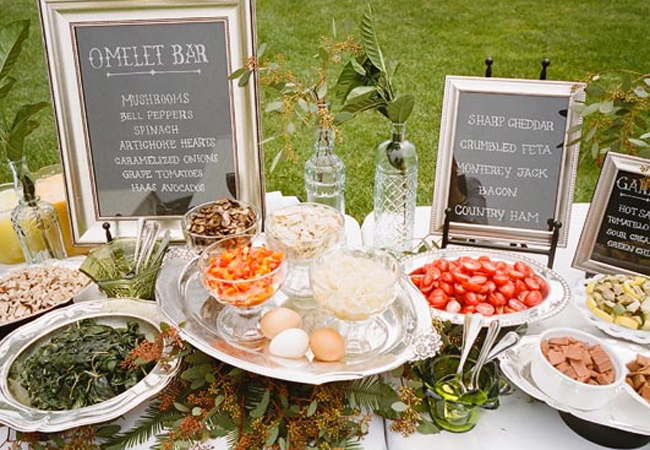 After this post on saving money on wedding day catering, Triple B reader Ashley asked for tips on planning a brunch wedding. Hope this info helps, Ashley. Happy planning!
DO work with your venue and/or caterer to create a menu that fits your palette and your budget. Traditionally breakfast and lunch fare is less expensive than dinner but it helps to have a professional guide you to get the best bang for your bridal buck.
DO get creative with you and your honey's favorite brunch dishes! Are you a fan of waffles? Why not offer creative toppings — from sweet to savory — to accompany them. (I served petite chicken and waffles and petite skillets of shrimp and grits during my cocktail hour — both popular brunch dishes — and they were a hit, even though my wedding was in the evening.) Omelette stations like the one pictured above can be fun too. Let your personality shine!
DO know that, like any other wedding, a brunch reception can be as formal as you like. You can make it fancier with fine china, table service, and even four-courses.
DON'T assume you can't serve alcohol. Bloody Marys, bellinis, mimosas and mint juleps are all fun brunch-friendly cocktails.
DON'T assume that just because your wedding will take place earlier in the day folks won't dance. Sure, an after five wedding might seem like a more likely time to shake a tailfeather but if you have the right music and you set the energy for your reception, the guests will follow. Just think about a day party!
DON'T forget the cake, cupcakes, pie…Dessert of any kind will help make your breakfast or lunch affair feel celebratory. And your wedding day is definitely a reason to celebrate!
[Image via andrewinfryeevents.com.]
Have you attended a brunch wedding? Would you consider having one?