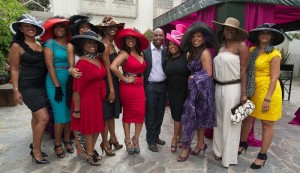 I'm so excited about today's Q&A. As I'm sure you've heard, television personality Niecy Nash is preparing to tie the knot this May — the nuptials will be televised in a two-hour special on TLC. The comedic actress (I've met her and she's hysterical!) had a fabulous  bridal shower in Los Angeles last Saturday. Triple B chatted with the man who made her GLAMTASTIC afternoon happen. William of WP Miller Special Events, Inc. spilled the beans on Nash's shower — there was couture, cocktails and condoms — plus gave advice on planning an equally memorable event regardless of your budget.

Black Bridal Bliss: How do you know Niecy Nash?
William of WP Miller Special Events: Niecy was a bridesmaid in actress Sheryl Lee Ralph's wedding and I was the planner for Sheryl's wedding. Niecy and I became good friends and when I learned she was getting married I didn't want to work the wedding, I wanted to enjoy it as one of her guests. This bridal shower was an opportunity for me to still plan an event just for her as a bride because the wedding is for her and her fiance (Jay Tucker).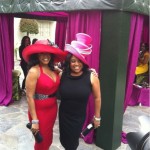 BBB:Who came up with the Glamtastic Big Hats and Fabulous Pumps theme?
WPMSE: Sheryl was the host. She wanted something glam and fantastic, so she merged the two and came up with the theme glamastic. The hats and pumps were Niecy's idea.
[cincopa AQMAhjKrAO1l]
[Pics courtesy of WP Miller Special Events.]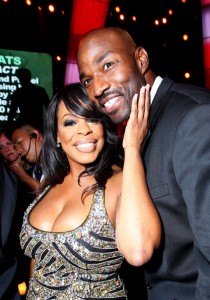 BBB: What was your design inspiration and did you have any challenges?
WPMSE: The color scheme was plum and emerald. We wanted to give guests a taste of what they would experience at the wedding but not give too much away. I found the perfect paper for the invitations to set the mood. My friend's backyard served as the venue. It is a beautiful home but there was a lot of space to work with — her estate is on two acres. With 40-50 guests I was concerned that people would get lost so I created three stations. There was a beauty area below a customized canopy, a lounge area where food and cocktails were served and a spa area by the pool.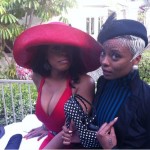 BBB: That sounds amazing! What were the highlights of the shower?
WPMSE: This is not Niecy's first wedding and we didn't necessarily want to play traditional shower games. The ladies put on a fashion show and contest. Holly Robinson Peete won for best walk and maid of honor Sherri Shepherd (who is also engaged) won for best hat. Everyone enjoyed it. There were also signature cocktails made with a new liquor from Remy Martin called "V". The names of the drinks included the Chocolate V and the Diva V which both represent Niecy. We wanted to personalize the day and still keep it fun and sexy.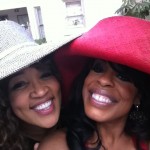 BBB: What were in the gift bags?
WPMSE: The contents were a range of items including clip-on hair extensions that the ladies were able to experiment with right at the shower to planned parenthood products.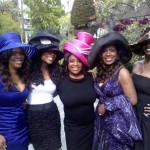 BBB: Interesting choice of words…I know readers are wondering: Do you only plan events for celebrities?
WPMSE: Absolutely not!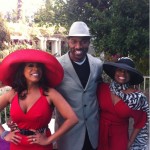 Steal William's Hollywood Glam Factor for Your Bridal Shower or Special Event:
Expect the Unexpected: "The skills to planning events are transferrable. I've planned lots of weddings but this was my first bridal shower. There were challenges (like it pouring in LA the night before and the ground being wet for set-up) but we welcome challenges."
Loosen up and Go with the Flow: "The shower lasted much longer than it was expected to. After it "officially ended", guests moved inside the house and started singing and dancing! Niecy never even got to open her gifts."
Make it Personal: "Consider naming a drink after the bride's alter ego!"
DIY Design: "Your gift table creates a focal point. Use a neutral table tablecloth and let the gifts do the rest. The different color wrapping paper, decorative ribbons and tissue paper will organically start to create a nice presentation."
Contact William here to schedule a consultation or call the numbers below. Just be sure to mention Black Bridal Bliss sent ya:
(310) 649-0886 or (310) 242-1039!