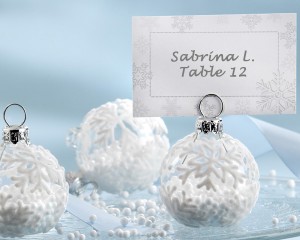 Technically winter is still a couple of months away but here in the Northeast U.S. we were treated to an early debut just this weekend. It got me to thinking about all those fall/winter brides who might be struggling with ways to stay warm on their big day. We already know there are huge financial benefits to getting hitched during off-peak times of year but the bridal fashion choices don't immediately seem as plentiful. Don't fret, just check out these winter wedding suggestions that aren't just stylish but affordable, too.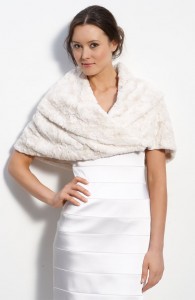 Ladies, rock this faux fur stole (those PETA folx won't be mad) from Eliza J for $78 at Nordstrom.com over your wedding gown and to stay warm and toasty after the ceremony.
Not many things say classy the way a fur muff does. And the below faux style from David's Bridal for $30 won't break your bridal break. Plus, if you're anything like me, your fingers are the first thing to get cold when the temps begin to drop!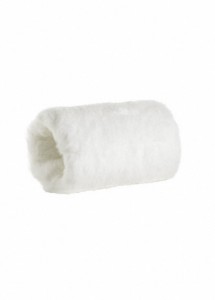 You can always use a tried and true pashmina. I found these silk and wool options over on Dessy for thirty bucks. However if you're in a major city like New York, you can find very similar styles for about $10 from a street vendor. P.S. – Don't worry about a pashmina-style scarf appearing too casual for a bride, once paired with your gown and other elegant accessories, the look will come together elegantly.
[Top right photo courtesy of libbyjamesblog.com.]