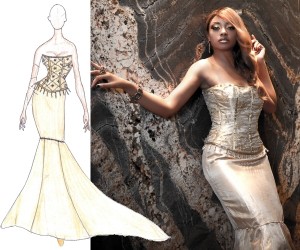 Happy 2011! Kicking things off this glorious first Monday of the year is veteran bridal designer, Therez Fleetwood. Fleetwood, who began designing wedding dresses over a decade ago has caught the attention of major media outlets such as The Today Show and ESSENCE magazine. Brides from all over the world trust her to create one-of-a-kind gowns inspired by Egypt, Morocco, India and South Africa.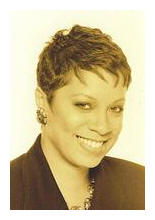 A former Fashion Institute of Technology student, 100% of Fleetwood's gowns are custom made. (I quite fancy the idea of knowing that no one will have my wedding dress but me.) And I know what many of you are thinking…Are all of her designs kente cloth shifts? Not at all! As shown in the above image and on her Web site, Fleetwood's gowns are stylish and sophisticated. She goes beyond the typical bridal chiffon and lace to incorporate accents such as cowrie shells and metallic fabrications for dresses that ethnically-inspired yet modern and fashionista-friendly. I also appreciate that she understands a woman's curves (she designs for women up to size 20) and plays them up wherever possible in her work. Her wedding gowns begin at $800 and Fleetwood also designs bridal accessories such as  headpieces, as well as, bridesmaid dresses.
For more information call 214-815-9325or email [email protected]
And as always, be sure to mention BlackBridalBliss.com sent ya!
[Above images courtesy of therezfleetwood.com]