We're still swooning over the images of best-selling author Elaine Welteroth's Brooklyn, NY wedding because they exude so much joy! And who can't use more of that these days? For those unfamiliar, Welteroth wed her musician husband Johnathan Singletary on May 10, 2020 in front of their Brooklyn, New York home. That's right; this determined duo tied the knot in a stylish all-white affair in the midst of a global pandemic, in the middle of the COVID-19 epicenter, right in front of their house and then threw a bomb reception block party to boot. The couple met as tweens in the Northern California church their mothers still attend. When asked about the two creatives reconnecting on the East Coast more than a decade later, Elaine told Vogue, "He tasted my fried chicken. The rest is history!"
 Below, we've compiled 5 ways to plan a fun and frugal wedding inspired by Welteroth's memorable nuptials. Enjoy!
1) Embrace what's already in your closet: Don't be afraid to wear items you already own on your wedding day. Elaine's dress wasn't new and in fact she had it for years but knew it was right because she felt great in it.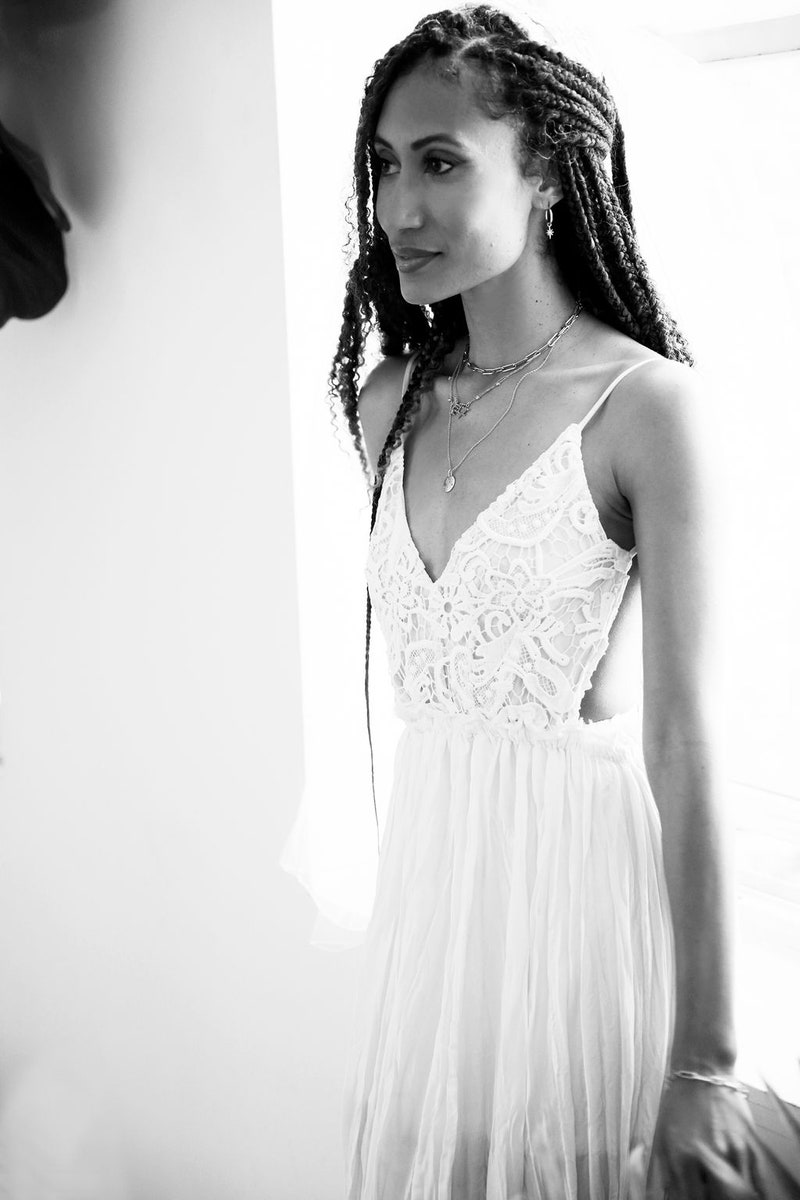 2) Dinner and drinks can be low-key: No need to feel obligated to serve a fancy, multi-course meal with a top-shelf open bar at your reception. The people who want your union to thrive don't care about the food and liquor you serve.
3) Details still matter: Elaine and Johnathan included the details that mattered to them and their relationship like their wedding date. So key. And in many cases, so f-r-e-e. "There was so much symbolism in this sequence of numbers [5-10-20] that only come together once in a lifetime," Elaine explained. "Also, it fell on a Sunday—the day we met as kids and saw each other every week growing up. But it wasn't just any Sunday, it would be Mother's Day!"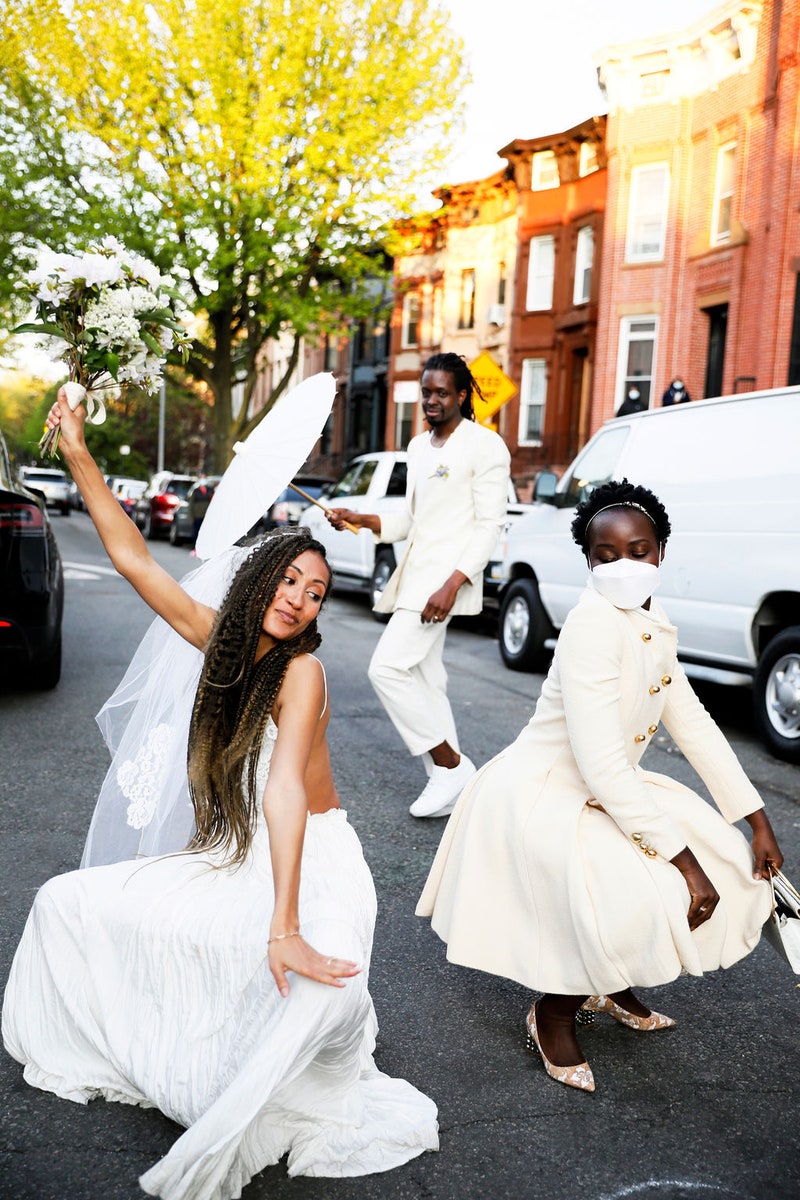 4) Minimal decor can go a long way: Other than their stoop, this couple had no real decor. They let the streets of Brooklyn be their backdrop and it worked. Full Disclosure: Even a bouquet and florals like Elaine opted to have can get pricey. However, when you're saving money on food, alcohol, transportation, venue, invitations, etc. splurging in one or two areas of your choice is more surmountable.
5) Remember your why: Celebrate the LOVE! The couple provided masks on-site in addition to parasols, bubbles, seeds to plant flowers, and homemade brownies from Elaine's mom's family recipe in a gift bag. Fun and fellowship with family and friends doesn't need to be expensive yet the memories are priceless.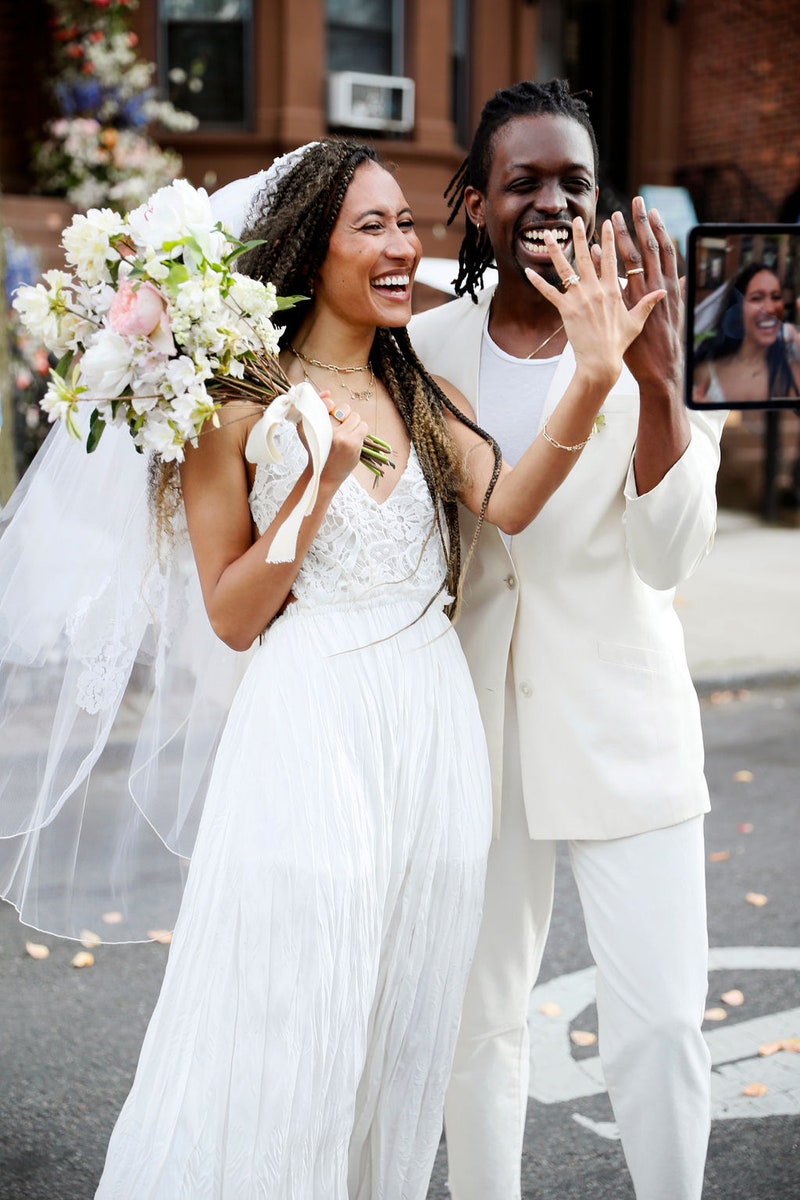 Which of the above pics from Elaine and Johnathan's wedding day are your favorite and why? Let us know in the comments.