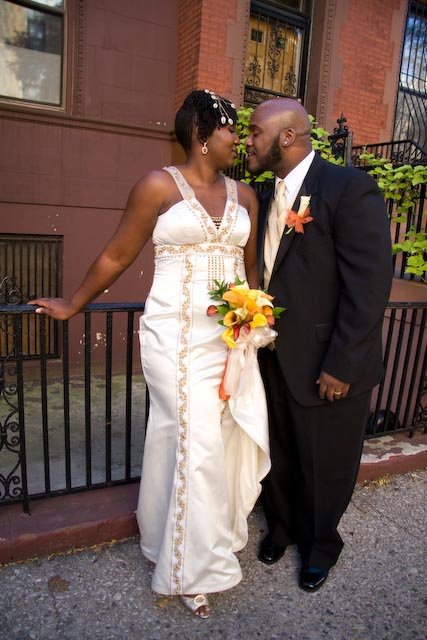 New York City is one of the most expensive places to host a wedding in the world. (The average cost of a NYC wedding for 125 guests is about $50,000.) But, if you plan ahead and are willing to wiggle a bit, you can have a memorable wedding in the Big Apple without going in debt. Seriously! Here are five things I learned while planning my own intimate NYC affair.
1 – Numbers Don't Lie If you can edit your guest list to 75 people or less, your options open up tremendously — especially in an expensive city like NY. Lynda and Alonzo's simple yet chic at-home Harlem wedding has received the most comments on Triple B to date. And remember the nuptials of Lesley and Kamau and Starrene and Anslem, both in quaint Brooklyn bed + breakfast inns? All these couples got the most bang for their bridal buck.
2 – Think Outside the Bridal Box If you're open to jumping the broom in an unconventional location, there are a plethora of affordable and often free places to say I Do in NYC. And if you're willing to look outside of midtown Manhattan to the outer boroughs, your possibilities really open up. (Central Park is not the only park in NYC.) Consider spaces in places like the Bronx, Queens and even Staten Island. Mr. TK and I spent $0 to wed in Fort Tryon Park. Yep, zip zero.
3 – Take Advantage of the Cultural Melting Pot New York City is known for amazing international cuisine, at varying price points. Why not take advantage of this rather than serve predictable food from a cookie-cutter catering hall? Use the nuances of the city to help make your nuptials memorable. Most restaurants will cater special events so it doesn't hurt to ask.
4 – Don't Take Yourself Too Seriously, No One Else Does This rule applies to wedding planning anywhere in the world. Exhibit A: The cake topper at my NYC reception would have probably made me clutch my pearls a couple years ago. I've featured companies on Triple B like LBV Designs for goodness sake. The truth is, I forgot to order a cake topper. I actually thought the Sharpie colored generic one was kinda hysterical. And so did Mr. TK. We got a good laugh out of it.
5 – Expose Your Out-of-Town Guests to the City's Hidden (Free) Gems When my family come to visit me from "down South", they rightfully complain about the high costs of The Big Apple. From tolls to parking to hotel costs, it is a lot to stay and get around in NYC — especially for a wedding when you're also expected to purchase a gift. As the bride and groom, there are certain things you have no control over. However, you can make sure your guests are aware of the virtually endless free and/or low cost activities in the city like a visit to Roosevelt Island on the tram or a walking tour of Harlem. Your guests will be very appreciative for your thoughtfulness.
[See more of Dennis and Dea's wedding here.]
Did you or someone you know recently tie the knot in NYC? What do you think of the above tips?