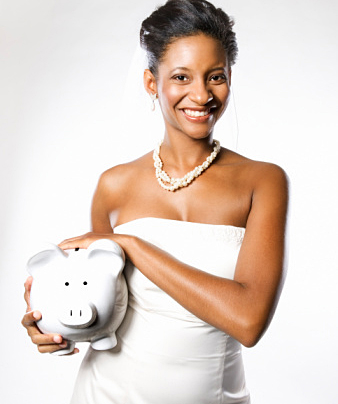 After earning two degrees from NYC's Fashion Institute of Technology, studying fashion marketing in London, working as a fashion market editor/writer/stylist for several years and most importantly; being raised by a shrewd shopper who can spot the best sales from bargain basements to Bergdorf Goodman (Thanks, Mommy!), I know a few things about shopping smart. Here I share some insider secrets I've acquired and hope they help you stay under budget for your wedding day. You're welcome!
1- You get more bees with honey… It seems trite to include this tip but I think with life's hustle and bustle it is easy for all of us to forget how far a little bit of kindness and sincerity can go. Asking someone how their day is going and cracking a smile every now and again could mean not paying for shipping and other money-saving perks.

2 – Shop out of season. The ideal time to purchase boots (at a great price) — is when everyone else is wearing sandals. Need a bathing suit for your honeymoon? Search for it at the very end of the summer when most folks have begun their back-to-school shopping.
3 – Step outside the bridal box. The sooner you realize all wedding-related items don't have to be obtained from a bridal-specific resource, the better off you'll be. My mother snagged a few of my wedding items like the guest book and the cake knife from Goodwill and my husband purchased passport covers as gifts for this groomsmen from the J.Crew Factory Outlet. Even discount stores like DSW and T.J. Maxx have helped many a savvy bride stay within her wedding budget.
4 – Ask and you might receive. Are you and/or your sweetie in the armed forces? Your caterer just may grant you a military discount. In many cities, teachers, firefighters and law enforcement professionals are eligible for discounts on a plethora of products and services. Most businesses of any kind have a referral discount of some sort or are willing to give one. I received an upgrade from a standard room to a suite at no additional charge for my bachelorette weekend just by mentioning the reason for my stay. Speaking up can go far!
5 – Shop wholesale. Most savvy New Yorkers are aware — and take advantage of — the garment district and the fantastic buys on everything from veils, accessories and formalwear that are available to them there. (Tax I.D. be dam*ed!) But even if you don't reside in the NYC tri-state area, research whether something smaller exists in your 'hood. Mid-size markets like Atlanta and Dallas contain these types of showrooms and those living in the Washington, D.C., Philadelphia or Boston areas can easily make a daytrip to NYC.
5 – Sometimes 30% off means paying 70% for something you don't need. Once you're engaged the temptation to run out and buy an ishload of bridal stuff will be high but please don't fall victim to the hype. Take inventory of what you already have before going out to buy something new. Shopping your own closet can be fun. The earrings I wore to my NYC nuptials are 19 years old and I honestly forgot I had them. I received many compliments on them, too.
Get more Triple B approved money-saving wedding planning tips here!