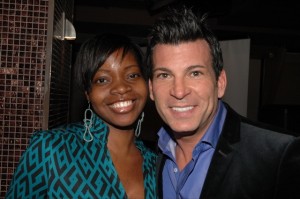 Last week about a dozen media professionals and I joined WeTV's David Tutera in NYC for an intimate dinner of Asian fusion fare and screening of an upcoming episode of My Fair Wedding. It was a great time! I had a chance to briefly chat with David who as you remember I originally met while covering the wedding of Chris Paul and Jada Crawley. The episode we previewed is a must-see and scheduled to air on Sunday, December 18. (I won't spoil it for ya but if you're a fan of old Hollywood glam, you'll especially enjoy it.)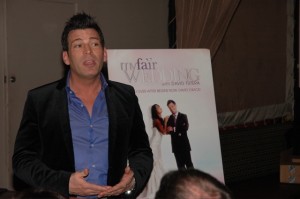 In addition to catching up with old colleagues and connecting with new ones, it was pretty cool to hear David talk about what goes on behind the scenes when filming My Fair Wedding. He admitted that while he has a humble budget when planning weddings for the show, most vendors gift their services in exchange for the televised exposure. (Seems obvious but I'm surprised at how many people don't factor this in when planning their own nuptials to mirror what David does on the small screen.) David was also candid when after opening up the room to questions, I asked if he noticed an increase in men being more involved in planning their big day. David said that while men are somewhat more interested in the bridal hoopla than in years past, the majority of them still just want to know when and where to show up. I was actually a little surprised since I've noticed my Tie the Knot Tuesday grooms are quite knowledgeable (and excited) about the planning aspect of their weddings than most would realize. David also revealed that since his background is in floral design he tends to go all out with flowers for his brides. However to help cut costs in the flower category, he advises making use of as many candles as possible to create a romantic ambiance in any space. And to avoid blowing all your savings with an open bar to keep loved ones tipsy, he strongly suggests opting for a house wine and/or signature cocktail over a (gasp!) cash bar. Get more of his tips here from David's exclusive Triple B interview!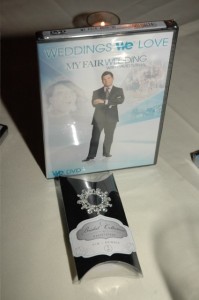 Triple B family, tell the truth: Do you typically watch My Fair Wedding and other bridal reality television shows for the wedding planning tips or simply as a guilty pleasure?