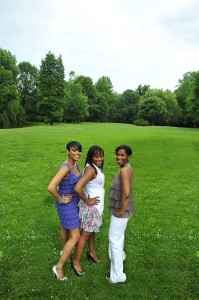 On Saturday, February 5th, the Event Design Group will present Engaged…Now What? at Embassy Suites Hotel in our nation's capital for all you folks who are wondering where to begin — or continue — planning your wedding. The Event Design Group are three young women who collectively have 20 years experience designing special events. Based in the D.C.-Maryland-Northern Virginia area, they're open to working with couples outside of the DMV, as well as, destination weddings. Check out my exclusive interview with this talented trio:
Black Bridal Bliss : Is this the first Engaged…Now What? event your company has given?
Event Design Group: Yes, however our company planned and offered the first educational bridal conference in our region, "How To… I Do."  "How To… I Do" was hosted in 2004 and 2005 and was widely successful with brides and area vendors.  We've condensed it from the 100+ attendee, full day, multi-topic sessions, to create a more intensive, interactive atmosphere.
BBB: What are going to be the highlights of the event?
EDG: We'll help couples de-mystify the wedding planning process through multiple interactive sessions. A few things you can expect from this event are: learning how to set realistic expectations for the big day, detailed information on the most reputable vendors in the DMV, instructions on creating a memorable tablescape, advice on creating and sticking to your wedding budget and much more! All attendees will also receive a customized binder to manage it all and light fare will be provided as well.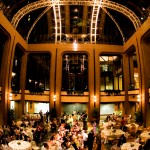 BBB: How will the event be interactive?
EDG: We intend to provide worksheets and demonstrations for couples that are relevant to this region. We plan to show brides how to crunch the numbers based on what vendors are charging in the DMV area.
BBB: Why are your services worth the money — especially in today's grim economy?
EDG: Most couples are looking to host events that are memorable with a little something for all to enjoy. Coordinating the multitude of experts that will make this the wedding of their dreams is no small feat. Typically a wedding planner will not only help you manage vendors on the big day, they will relieve you of some of the more daunting tasks, anywhere from a few weeks to several months before. Not to mention the vendor relationships that we've already established and the possible financial benefits based off of these relationships.
BBB: Do you encourage women to bring along their mates to the event?
EDG: Absolutely! We invite all those who will have influence on the major decisions with the big day. This event is centered around education. One of the biggest mistakes that couples tend to make is their lack of knowledge regarding the industry and what is has to offer.
The final day to pre-register for Engaged…Now What? is January 23rd! Be sure to enter the code ENGAGED at checkout to receive your exclusive ($10) Triple B discount off the $55 ticket cost. As always, don't forget to mention Black Bridal Bliss sent ya!
For more from the EDG team on this exciting event, view their promotional video here.