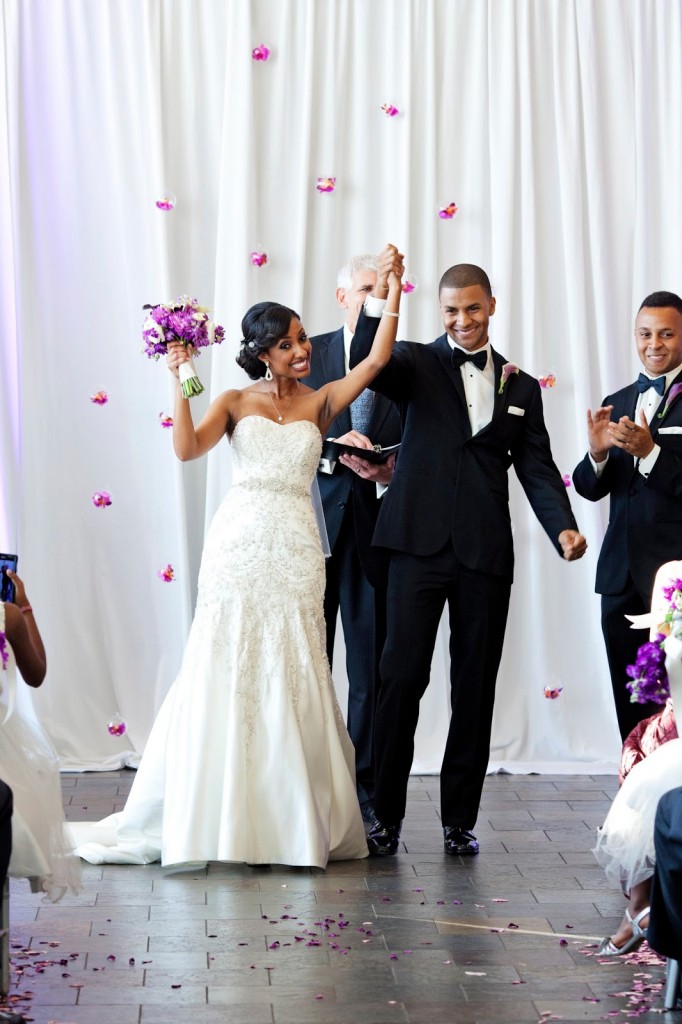 We've covered this topic in various ways on several occasions but without fail it comes up with countless brides-to-be every engagement season: How can I cut costs for my wedding? So, here's our latest list for all your frugal nearlyweds. Happy Saving!
Play with the Seasons – Marrying off-season is a great way to save money since 70% of weddings take place between May and October. (Note: "Off" season might be different in Boston than in Miami.)
Jump the Broom When Everyone Else Is Not – Another huge cost-cutter is getting hitched on any day other than Saturday. Friday and Sunday nuptials have become quite common and mid-week weddings are catching up in popularity as well.
Get Creative with Cuisine – Consider a morning or afternoon wedding so you can serve breakfast or brunch instead of a pricier dinner — perfect for a Sunday wedding. The foods typically associated with dinner are more expensive than standard breakfast/brunch fare.
Sip Specialty Cocktails – An open bar can easily add thousands of dollars to your wedding budget's bottom line. Consider one or two specialty cocktails instead. Not only will you get more bang for your bridal buck, the creative drink names can become fun conversation starters for your guests. (Visit Soirees & Shindigs for ideas and be sure to mention Black Bridal Bliss sent ya.)
Lemme Upgrade Ya! – If going on a honeymoon, score as many freebies and upgrades as possible by simply telling everyone you work with to book your romantic getaway about the nature of your trip. We guarantee they'll throw in something special and/or free of charge. From an upgrade of a standard room to a suite, discounted activities/excursions or complimentary champagne, there are countless perks to be enjoyed by remembering this fun fact.
Score even more budget bridal tips from former Triple B brides here.
How are you planning to save money on your wedding day? Share with us in the comments.
Stay tuned for our next Money-Saving Wedding Planning Workshop…What city should we visit next?
*View more pics from Seti and Harry's big day here.