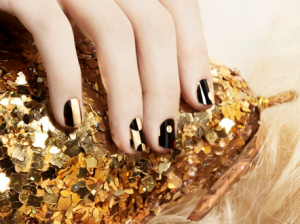 The winners of the fab Minx giveaway with celebrity manicurist Lisa Logan have been selected! If you recall, I asked the Triple B audience to answer this question: As an upcoming (or former) bride, what beauty element are you or were you most concerned with for your wedding day? Check out the responses from the winners below that scored them this awesome prize.
(Ladies, your Minx are in the mail!)
Rhonda from Georgia: I was most obsessed with my bridal shoes. I opted to wear a royal blue Me Too peep toe flat with rhinestone detail on the toe. They were beautiful and added trend and flavor to my formal ivory ball gown.
Teri from California: The most important beauty element of my wedding day was my skin. I really wanted to have that special glow. As we all know getting married can be very stressful. I was sure to write my regime down and follow daily to ensure the best possible results.
Shay from Alabama: My wedding day look would have to be described as classic and clean. I want my features to be accentuated but not overstated. Simple, clean beauty that would bring my groom to tears is my dream.
Kasha from California: Why not go further than a traditional French manicure for your wedding? It's your special day and your nails are one of the most visible accessories that will be photographed and looked at by your guests, second to the dress and ring of course. I am all about doing designs and styles that fit my personality.
What do you think of the winner's answers? Did they forget anything major? Stay tuned as another terrific Triple B giveaway will be announced very soon!